Asmara, September 11, 2023 (SUNA) The President of the Transitional Sovereignty Council, Lieutenant General Abdel Fattah Al-Burhan, and the Eritrean President, Isaias Afwerki, held joint discussions today in Asmara regarding the path to strengthening bilateral relations between Khartoum and Asmara and ways to support and develop them.
Ambassador Ali Al-Sadiq, the Acting Minister of Foreign Affairs, said in a press statement that the discussions dealt with supporting the prospects for joint cooperation between the two countries, praising the positions of the Eritrean President in support of Sudan in regional and international forums, which he expressed through his participation in the summit of Sudan's neighboring countries, which was held in Cairo, as well as in the summit of countries. IGAD, which Djibouti recently hosted.
Pointing out that President Afwerki's visions and ideas aimed, in their entirety, at sustaining peace and stability in Sudan. Ambassador Ali Al-Sadiq referred to the eternal and historical ties that bind the Sudanese and Eritrean peoples, stressing the desire of the leadership of the two countries to strengthen the bonds of joint cooperation.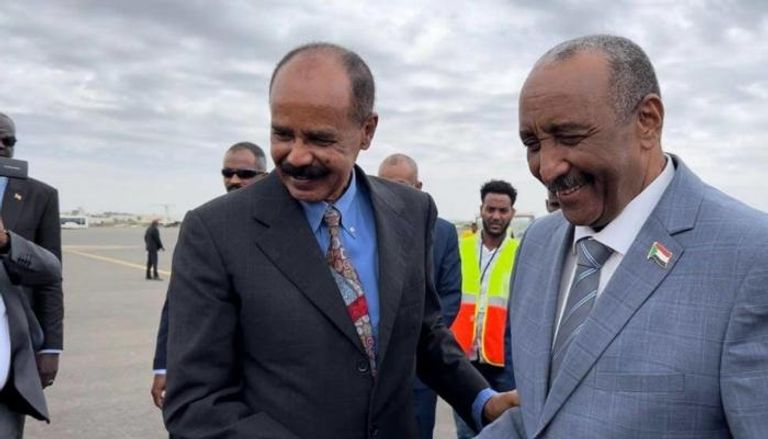 The President of Eritrea receives Al-Burhan
البرهان وأفورقي يعقدان مباحثات مشتركة