At least 35 people were injured, including 11 from gunfire, as asylum seekers from Eritrea protesting against the Asmara government clashed with police and regime supporters in Tel Aviv on Saturday after a demonstration turned violent.
The Magen David Adom emergency service said the injured included 19 police officers who suffered light-moderate wounds.
Tel Aviv's Ichilov Hospital said they treated 11 people for gunshot wounds, including four people who were in serious condition and underwent surgery.
According to the statement, the officers fired as they felt their lives were in danger and that there were three injuries as a result. It was unclear if any civilians were carrying firearms.
The Haaretz newspaper reported that police also used stun grenades and tear gas in attempts to disperse the crowd.
The report said rioters broke windows and attacked officers, and police beat some of the protesters with batons.
In a statement, police said officers were injured when rioters threw rocks and planks of wood.
Police chief Kobi Shabtai said in a statement that he would hold a situational assessment in Tel Aviv.
Hundreds of police officers were deployed to south Tel Aviv in addition to the forces already on the scene, as law enforcement tried to control the spiraling situation.
Videos posted to social media showed street battles between police and rioters, as well as apparently between opposing groups of Eritrean nationals.
A senior police officer told Haaretz that while they had expected some violence, officers were not prepared for the intensity of the disturbances.
"We were very surprised by the level of violence, the kind of scenes you only see in the West Bank," the unnamed law enforcement official said.
There has been rising scrutiny in recent months over the policing of demonstrations.
A leader of the Eritrean community named only as Jonny, told Haaretz that they had asked police to cancel the embassy event, warning that there could be disturbances.
"We brought dozens of people to the police and asked them to cancel the regime's event. We said there would be violence. They didn't listen to us," he said.
There have been outbreaks of violence within the Eritrean asylum seeker community in the past between those who support the regime in their home country and those who oppose it.
In 2019, a regime supporter was stabbed and beaten to death by three other members of the Eritrean community in Tel Aviv.
Although migrants who are supporters of the Eritrean regime, and therefore not under threat of persecution, in theory do not quality for refugee status under UN guidelines, Israeli authorities do not distinguish between asylum seekers based on their political affiliations.
According to Channel 12 news, around 25,000 Eritrean nationals live in Israel.
Last month, as Eritrea marked 30 years of independence, festivals held by Eritrea's diaspora in Europe and North America were attacked by exiles. The Eritrean government dismissed them as "asylum scum."
People who fled the Horn of Africa nation say the violence against the festivals were protests against a repressive government that's been described as the "North Korea of Africa."
Hundreds of thousands of people have fled Eritrea over the years, many setting off into the deserts of Sudan and then North Africa and Israel in attempts to reach Europe.
President Isaias Afwerki, 77, has led Eritrea since it won independence from Ethiopia in a long guerrilla war. There have been no elections, there's no free press, and exit visas are required.
Many young people are forced into military service with no end date, human rights groups and United Nations experts say.
Associated Press contributed to this report.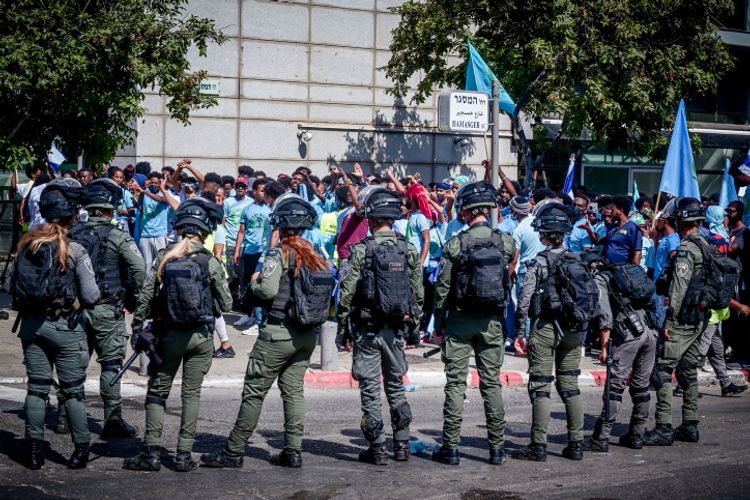 Avshalom Sassoni/Flash90
Israeli police guard while Eritrean refugees who oppose the regime in Eritrea protest outside a conference of regime supporters in south Tel Aviv, Israel.
At Least 35 Wounded In Israel After Violent Demonstrations ...