The first time the family's car was vandalized every two weeks ago, it was clenched with hakkor's similar symbols.
A week later, the windshield was broken. Last week on Tuesday night the car burned and the rescue service broke out to extinguish the fire. Now the family has had enough and moves from Gällivare.
"Well, we want to move from Gällivare, we'll move to a bigger city, but I do not want to say which city we're afraid of," says Sambon Kibrom Tesfagber.
He continues:
"In the meantime, we never thought about moving from Gällivare because we wanted a quiet life but now we have to do it.
Does not feel safe
The family came to Sweden from Eritrea six years ago. He has two jobs in Gällivare, but he says he has to think about the family in the first place. Therefore, they have decided to move because they do not feel safe in Gällivare after the attack.
"At the moment, job is not the most important thing, but I have to think about family safety. This attack is from someone who does not like foreigners or immigrant people, says Samson Kibrom Tesfagber.
No suspects
The police in Gällivare first investigated the crime against nationals but have closed the case. Now the classification is harmful and car fire, but at the moment there are no suspects.
-----
Thought fire on a car that was hatched with hakkors
The night to Wednesday, some or some unknown offenders have fired a car in Gällivare.
Just before 23:00 on Tuesday evening, a car fire was reported in Gällivare. Police were sent to the site and they have filed a fire damage notification and took the car to make a technical investigation.
The police will hear two witnesses who will have seen the damage case. At present, no person is arrested for the crime.
- Someone has lit fire on the vehicle and there must be two witnesses to the event. We must talk with plaintiffs and then we have witness testimony to hold. We will take investigative measures on the matter, more than I can not say right now, "says Eva Sjöström at Gällivare police.
According to the police, the same car must have been subjected to damage on three occasions. It started on March 31 when someone had sprayed hackors on the car's entire windows and bonnet, at that time the classification was harmful and against the public.
On April 8, someone had broken the front of the car and passenger side and broke a side mirror. During the night to Wednesday, unknown culprits or offenders have been hit for a third time by igniting fire on the car.
Eritrean Samsom Kibrom, who had been exposed to racist attack for a week,
World Bulletin / News Center
It is reported that Samson Kibrom, a 25-year-old Eritrean who lives in Gellivare town in the Lapland region of Sweden, is armed with a cross of a gambling cross.
In the statement made by the Norrbotten Security Directorate, the incident was described as racist assault and hate crime. The investigation into the racist attack carried out that no one has been taken into custody so far.
Samsom Kibrom, the victim, said in a statement to the Aftonbaladet newspaper that he arrived in Sweden 6 years ago with his family from Eritrea and settled in Gallivare to live in a safe environment.
Kibrom tells us that the lives of the last week have returned to nightmare, '' The glass of the entrance door of the building we sat last week was broken and a beer was blown in. Then they hung my car. Before the arson, they painted a gambling cross. They do not want us here. I have two little children. The whole family is in fear and anxiety. "
Recognizing that he worked two jobs in the town and that he was a board member, Kibrom noted that they were afraid of the attacks and thought to move to another place.
Car was scratched with choppers - and burned
Samsom Kibrom and his family have lived in safety in Gällivare for six years. But now their lives have been shaken - someone has knocked hackors on their car and burned it.
"My daughter dares not go bus alone to school anymore, she's terrified," says Samsom.
25-year-old Samsom Kibrom and his family came to Sweden from Eritrea six years ago. Since then they have lived in Gällivare in Lapland. But after an event that shook the family they do not want to stay longer. It all started two weeks ago Samsom found his car chopped with hakkors.
"Then, a week later, they broke the boxes and sprinkled it with beer," he said.
On Tuesday, someone put fire on the car and the rescue service got out and shut it off.
The family has been affected by the occurrence - especially the nine-year-old daughter.
"My daughter dares not go bus alone to school anymore, she's terrified. She does not want to sleep alone, she is afraid that somebody will kill her, he says and continues:
- The whole family is stressed by this. But my one year old son does not understand what happened.
Because they feel unsafe they want to move.
"Our life is here, I have two jobs, but I do not see that we have a guarantee for our safety anymore. It does not matter where we just want to move from here.
The police investigate the incident as gross damage and suspected hate crime. According to Fredrik Söderlind, at the police in Norrbotten, there have been a number of interrogations, but there is no suspicion at the moment.
- I can not express myself and the event itself but it is undeniably bad. Not only are cars burned up - without even spreading a hatred message this way is bad enough.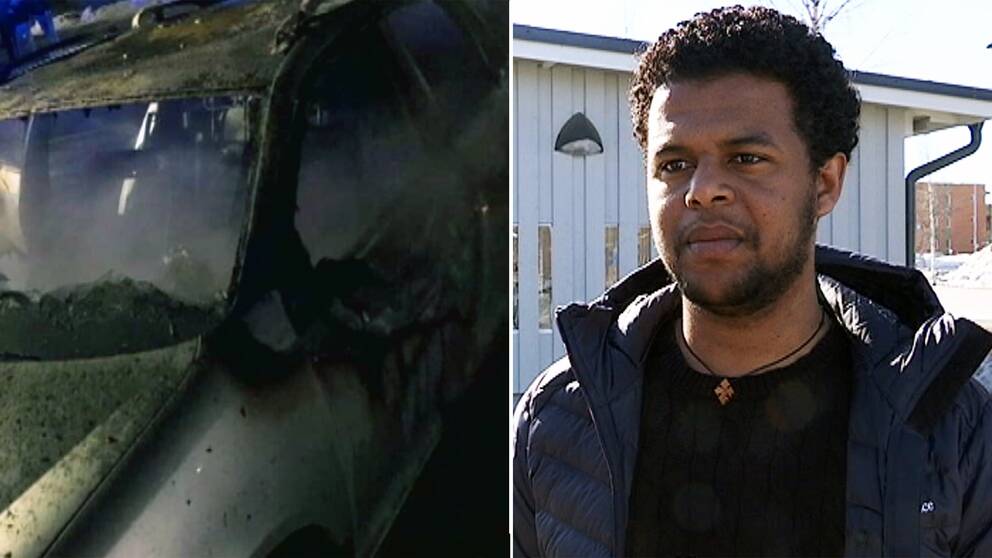 Samson Kibrom Tesfagber and his family no longer feel safe in Gällivare.