This week's briefing on recent news and upcoming events in the region featuring Mirette F. Mabrouk, Marvin G. Weinbaum, Gonul Tol, Alex Vatanka, and Gerald Feierstein.
Mirette F. Mabrouk
Senior Fellow, Director of Egypt program
July 28, 202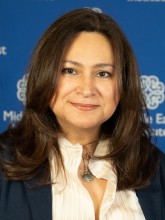 It's never a good sign when negotiators differ on the desired outcomes of negotiations.
Last week, hours after an African Union (AU) sponsored summit on the filling and operations of the Grand Ethiopian Renaissance Dam (GERD), Ethiopia's Water, Irrigation, and Energy Minister Seleshi Bekele had to walk back reports by a state-owned broadcaster suggesting the government had formally authorized the reservoir to be filled. Egypt and Sudan had asked that the filling not commence until an agreement on the filling and operation of the dam was in place. The media was flooded with satellite images of water pooling in the reservoir behind the dam, prompting calls for clarification from both Egypt and Sudan. Bekele insisted that it was merely due to the heavy rains.
It's an entirely reasonable assumption, at this stage of the dam's construction and with the current heavy rainfall, but a more pertinent question would be whether the sluice gates were then closed or not. In any event, Ethiopian Prime Minister Abiy Ahmed effectively put paid to the questions in a statement saying that the "current rainfall and runoff situation in the region had made it conducive to fill the dam."
The AU sponsored talks fizzled to an end without any tangible results. The only good takeaway, such as it was, appeared to be a clear attempt to defuse rising tensions, in the form of flowery, if ultimately useless, statements. In his official Twitter account, Ethiopian PM Ahmed described the meetings as "fruitful" and said that a "great understanding" had been reached, thanking his "brothers" Egyptian President Abdel-Fattah el-Sisi and Sudanese Prime Minister Abdalla Hamdok for "the common understanding reached to continue the technical discussions on the filling."
The official Ethiopian statement that followed said that the country was "committed to a balanced and mutually beneficial negotiation." AU Commission Chairman Moussa Faki Mahamat also tweeted that he considered it "absolutely necessary" that "an agreement be reached that preserves the interest of all parties."
The Egyptian statement was similarly flowery but referred to the negotiations' desired outcome as being a binding legal agreement on the GERD's filling and operation.
A few days later, the AU issued a statement on behalf of its chairman, South African President Cyril Ramaphosa, which said that Egypt, Sudan, and Ethiopia had welcomed its expert report on the issues and that the respective heads had "agreed on the process of finalizing negotiations on the text of a binding agreement on the filling and operation of GERD, which include a comprehensive agreement on future development on the Blue Nile river."
Ethiopia's response must have caught the AU rather by surprise. Their Foreign Ministry Spokesperson Dina Mufti told an Emirati newspaper that "The Ethiopian government does not look for a binding agreement concerning the current talks about GERD, only a guidelines agreement which can be revised at any time."
While the GERD has been a contentious project since it was first announced in 2011, this issue is at the core of the dispute between Egypt, Ethiopia, and Sudan.
With a reservoir capacity of 74 billion cubic meters (bcm), the GERD will be the seventh-largest hydropower dam in the world and the largest in the region. Domestically funded, the dam is a huge source of national pride for its people, who are looking to it to help boost their economy. Dams can also provide benefits to downstream countries by regulating floods, which would be especially beneficial to Sudan. Under normal circumstances the dam wouldn't pose much of a threat to the downstream countries, Egypt and Sudan, although there is no way of knowing for sure since the GERD is the only dam of its kind to have been built without an Environmental and Social Impact Assessment (ESIA).
What Egypt and Sudan are worried about is the filling and operation of the dam during water shortages or droughts. Sudan is 50 percent desert and Egypt 96 percent desert. Egypt is already one of the most water poor countries in the world, with an annual per capita share of 560 cubic meters — well below the internationally recognized norms for water scarcity, which are set at 1000 cubic meters annually per capita. The country relies on the Nile for over 90 percent of its fresh water and, contrary to popular belief, has never found the vast reserves of underground water that were once hoped for a decade ago. Ethiopia, by contrast, is water rich, with over 936 bcm in annual rainfall alone. The issues, though, have never been about water or the technical aspects — all three countries have quite enough technical expertise to sort out any issues.
The dam has long been surrounded by rumor and misinformation with nationalist chest thumping among citizens of all three countries (the states themselves have maintained the line that diplomatic negotiation is the way forward). Coverage of the dam often refers to Egypt and Sudan attempting to hold Ethiopia to "colonial era agreements" in reference to agreements between the two countries in 1929 and 1959 that largely split Nile Basin reserves between them and that Ethiopia was neither party to, nor recognized. In actual fact, during the decade of negotiations, Egypt refers only to the three agreements signed with Ethiopia: the 1902 agreement signed with Emperor Mennalik II, the 1993 agreement signed by Prime Minister Meles Zenawi and President Hosni Mubarak, and the 2015 Declaration of Principles signed by Prime Minister Ahmed, Prime Minister Hamdok, and President Sisi. Additionally, Egypt and Sudan note the harmful effects of similar Ethiopian projects on Djibouti, Kenya, and Somalia in their insistence on a binding dispute mechanism. Matters are further complicated by the fraught political situation in Ethiopia; in a politically divisive and charged landscape, the dam is a national unifier and it is not in Ahmed's interest to be seen as offering concessions.
All negotiations must have a common desired outcome to be successful and it is unlikely that the AU negotiations, like the U.S.-sponsored talks before them, will bear fruit. To date, Ethiopia clearly does not believe it is in its interest to cooperate with Egypt and Sudan rather than go it alone, and neither country has much leverage. Nor, despite Egypt's efforts to involve the international community, is it likely that international players will get involved. The onus will remain on Egypt and Sudan to persuade Ethiopia that the full benefits of the dam may be realized with cooperation, rather than unilateral actions. Access to Egypt's power grid, for example, would allow Ethiopia to sell electricity to Asia and Europe via Cyprus. There is still time, and plenty of technical solutions, to come to a mutually beneficial outcome. What's lacking is the political will.