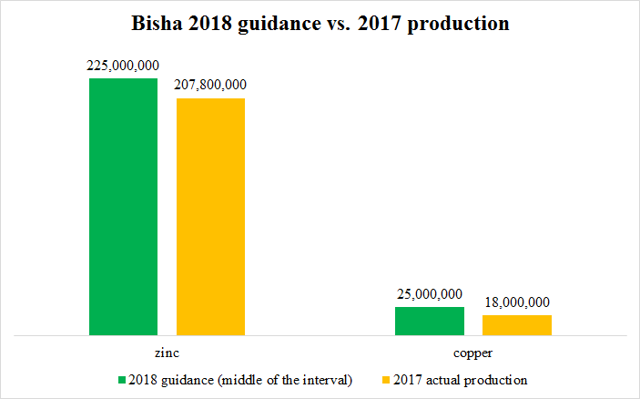 Source: own processing, using data from Nevsun Resources
On a co-product basis, the zinc cash costs should range from $0.7/lb to $0.9/lb and copper cash costs should range from $1.55/lb to $1.75/lb. On a by-product basis, the zinc cash costs are estimated at $0.6-0.8. Based on the production and cost guidance, it is possible to expect operating cash-flow of $147-216 million, at a zinc price of $1.5/lb and $174-247 million, at the current zinc price of $1.63/lb.
However, it is important to remember that Nevsun owns only a 60% interest in the Bisha mine, with the remainder owned by the Eritrean government. It means that it is possible to conservatively assume that operating cash-flow of approximately $100 million should be attributable to Nevsun if the current metal prices prevail. It should be enough to finance the majority of expenditures projected for 2018:
$50-60 million - Timok Upper Zone - completion of the PFS, initiation of the FS, development of an exploration decline, land acquisitions, condemnation drilling, environmental and social studies, etc.
$5 million - Timok Upper Zone and Lower Zone - exploration
$4 million - drilling at the 100%-owned properties in Serbia and Macedonia
$7 million - Bisha - drilling
Among the expected catalysts belong the completion of the Timok Upper Zone PFS (Q1) and a lot of drill results. Nevsun intends to drill 12,500 meters at Timok Upper Zone, 16,000 meters at other 100%-owned projects in Serbia and Macedonia, and 15,000 meters at Bisha. Moreover, there should be also an undisclosed volume of drilling at the Timok Lower Zone (financed mainly by Freeport-McMoRan (
FCX
)) and Tilva (predominantly financed by Rio Tinto (
RIO
)). Besides a positive PFS, the main boost to the share price may be delivered especially by drilling at Bisha, that is aimed at discovering new near-mine shallow copper-gold-silver deposits and drilling at the Timok Upper Zone that should focus on the new deposit 
discovered
 500 meters to the east of the current resource area.  
Although the major part of the 2018 guidance news release is positive, there are also some negative parts. The dividend payments were suspended completely. Although it was only symbolical $0.01 per quarter over the recent quarters, its complete suspension may disappoint some of the investors. What is worse, the permits for the Timok Upper Zone exploration decline that were expected in Q4 2017 haven't been issued yet. This delay may indicate that the whole permitting process may take longer than expected and the plan to start production from the Upper Zone around 2021 may be too optimistic. But the most damage to the investor's sentiment was probably caused by the fact that the management has reminded that an equity financing may be needed to fund the Timok Upper Zone initial CAPEX, that is estimated at $630 million according to the 
updated PEA
. According to the news release:
The Company will continue to advance its financing activities for the Timok project in 2018. The Company is in early stage discussions with project finance providers and expects to advance these discussions on release of the Timok pre-feasibility study. In parallel with these discussions, the Company is currently evaluating options for sourcing additional capital, including equity, convertible debt, precious metal streaming, and strategic partnerships.
However, there is still a good chance to avoid the equity financing completely. As of September 30, Nevsun 
held
 cash & cash equivalents worth $151 million. If the cash generated by Bisha manages to cover all of Nevsun's exploration and development expenditures in 2018, the remaining Timok Upper Zone CAPEX will be around $600 million and Nevsun will still hold cash of approximately $150 million. If Bisha manages to contribute to the Timok Upper Zone development by at least $50 million in both 2019 and 2020, the financing gap should be around $350 million. It equals to 55.55% of the estimated initial CAPEX. The banks are usually willing to provide debt financing that covers 50-70% of CAPEX. It means that there is still a chance that Nevsun will be able to avoid the equity financing completely and if not, the resulting share dilution should be only limited.
The 2018 Bisha production guidance is positive. It is expected that the zinc, as well as copper production, will be notably higher compared to 2017. It is very important, as Nevsun needs the cash generated by Bisha to help to finance the Timok Upper Zone mine development. Another positive fact is Nevsun's exploration activity. It will drill not only at Bisha and Timok Upper Zone but also at other projects in Serbia and Macedonia and together with its partners also at Timok Lower Zone and Tilva. At the current market capitalization of less than $700 million, Nevsun is cheap. The Timok project alone is worth more than that. However, given the recent price action, it is quite possible that it will get even cheaper in the short term. The markets paid attention only to the more negative parts of the recent news release and the share price declined to the support level around $2. If this level is broken, it is hard to predict where the share price will stop. But I have no intention to liquidate my position. Quite the contrary. If the share price dips below $2, I intend to buy more shares.
Disclosure:
I am/we are long NSU.
I wrote this article myself, and it expresses my own opinions. I am not receiving compensation for it (other than from Seeking Alpha). I have no business relationship with any company whose stock is mentioned in this article.