---
<!!--#exec cgi="/cgi-bin/ssi_image/ssi_rand_image3.pl" -->
[dehai-news] Eritrea: The Significance of U.N. Sanctions
---
From: Tsegai Emmanuel (emmanuelt40@gmail.com)
Date: Wed Dec 23 2009 - 20:25:50 EST
---
Eritrea: The Significance of U.N. Sanctions
Stratfor Today » <http://www.stratfor.com/analysis> December 23, 2009 |
2259 GMT

[image: Eritrean President Issaias Afeworki during a May 2008 visit to
Tehran]
ATTA KENARE/AFP/Getty Images
Eritrean President Isayas Afewerki during a May 2008 visit to Tehran

The U.N. Security Council (UNSC) on Dec. 23 imposed sanctions on Eritrea
including an assets freeze, travel restrictions and an arms embargo. The
sanctions are a response to aid the country has given insurgents in Somalia
who oppose the ruling Transitional Federal Government, which is backed by
the United States and Eritrea's historical enemy Ethiopia.

In 2000, the UNSC imposed an arms embargo against Ethiopia and Eritrea that
lasted for one year. The new sanctions are further-reaching and target only
Eritrea, and therefore could upset the balance of power between Asmara and
Addis Ababa.
[image: Map - Africa - Horn of Africa]

The animosity between Eritrea and Ethiopia has taken many forms since
Eritrea cleaved off from Ethiopia in 1993, thereby removing Addis Ababa's
only coastal access. The two fought a brutal war from 1998-2000 over the
demarcation of their shared border, which remains heavily militarized,
though not as much as in recent years past. Eritrea's primary strategic
imperative is to keep Addis Ababa distracted, so as to draw its military's
attention away from the border; therefore Asmara has consistently maintained
a policy of supporting dissident groups not only in Somalia, but also in
Ethiopia proper (most notably the Ogaden National Liberation Front, as well
as the Oromo Liberation Front). Ethiopia, in turn, funds a Somali-based
militia known as Ahlu Sunna wa Jamaah, which fights against Eritrea-allied
militants in Somalia (Eritrea supports these groups through the delivery of
cash and weapons).

Eritrea is a warrior nation; with a population of approximately 5 million,
its army is estimated to be more than 200,000 strong (not including its
reservists), giving it one of the largest armies in Africa. Yet Ethiopia —
much larger than Eritrea in size and population (81 million), though
outnumbered considerably in terms of total troop numbers (its army has fewer
than 140,000 soldiers) — holds an additional advantage in its security
relationship with the United States. Washington has poured cash and military
equipment into Ethiopia — especially since 2006, when Somali Islamist group
the Islamic Courts Union briefly took control of Mogadishu — as a way of
countering the Islamist threat in Somalia.

Despite Ethiopia's relationship with the United States, these UNSC sanctions
will not automatically render Eritrea powerless against Ethiopia — though
they will certainly not do anything to strengthen Asmara's hand. Although
the sanctions are meant to admonish Eritrea for supporting militant groups
in the Horn of Africa, they will only make giving that support more
difficult, not impossible. The plethora of dirt landing strips in remotely
populated regions of Somalia and Ethiopia make it extremely difficult to
prevent Eritrea from sending weapons and cash to militants in Somalia and
Ethiopia, which Asmara will continue to do, if for no other reason than to
keep Addis Ababa off balance.

---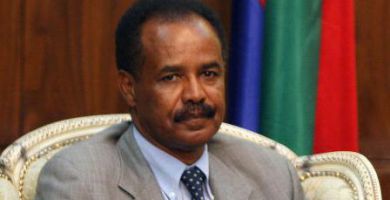 ----[This List to be used for Eritrea Related News Only]----

---
webmaster
© Copyright DEHAI-Eritrea OnLine, 1993-2009
All rights reserved