---
<!!--#exec cgi="/cgi-bin/ssi_image/ssi_rand_image3.pl" -->
[dehai-news] NEW YEAR'S PARTY-OAKLAND, CA
---
From: YPFDJ Bay Area (ypfdj.oakland@gmail.com)
Date: Sun Dec 20 2009 - 16:04:04 EST
---
Bahlna Entertainment, YPFDJ-Oakland, and RedSea1.com are extremely excited
to announce a

New Years Eve Extravaganza!!

*The event, which takes place on Thursday, December 31, 2009 from 9-pm until
-2am, is an 18+ event with a strict dress code (i.e. no t-shirts & tennis
shoes). Please join us not only to enjoy the music of the special guests and
dancing the night away with friends but also to mix, mingle and bring in
2010 with a bang!*

The party is starring and featuring the following multi-talented artists:

Legend *Hagos Berhane, *the multi-talented *Michael Goitom, * certified
keyboardist *Awet Okbay*, multi-talented saxophonist *Gidewon Habtom*,
Bassist and musical arranger *Salhadim Abobeker* . In addition there is a
very *special surprise performer*!**

*New Years Eve Celebration
*Historic Sweet's Ballroom
1933 Broadway St

Oakland, Ca 94612-2205

*Date: *Thursday, December 31, 2009

*Time:* 9:00pm- 2:00am

*Entrance Fees:* Advanced Purchase: $30

At the door, *before* 11pm: $35

At the door, *after* 11pm: $40

* *

*Additional Information: * 18+ event with a STRICT dress code. Strict Security
will be enforced at the venue. V.I.P (separate space with special treatment
and security)
is available by reservation in advance and a higher fee Two shuttles will be
available departing from the Red Sea and Asmara restaurants in Oakland. With
the capacity at only 900, make sure to get there early to ensure you are in
the building for an event of a lifetime.

*Directions:*

From* *San Jose = Take 880 North exit on Broadway St and make a right.
Address is 1933 Broadway St.

>From Santa Rosa = Take 101 south, merge onto 580 East, and merge 980. Exit
at Northgate. Make a left on W.Grand and a right onto Broadway. Address is
1933 Broadway St.

>From San Francisco = Take the Bay Bridge toward Oakland. Merge onto 880
South, exit Broadway St. and make a left. Address is 1933 Broadway St.

Oakland = Take Telegraph from Red Sea Restaurant toward downtown. Make left
on 20th St then right on Broadway. Address is 1933 Broadway St. (behind the
SEARS)

*** New DVDs and cds will be on sale for discounted prices at the new years
eve event ****

*For more info please call (510)681-3000, (510)332-2131 or (650)224-3385 or
log on to **www.ypfdj.org* <http://www.ypfdj.org/>*, **
www.bahlnaproductions.com* <http://www.bahlnaproductions.com/>*, or, **
www.redsea1.com* <http://www.redsea1.com/>* .*

* *

* We hope to see you all there.*


-- 
Winta


-- 
Bay Area Young-PFDJ


Building a strong and conscious, Patriotic Youth Movement
-- 
www.youngpfdj.org

---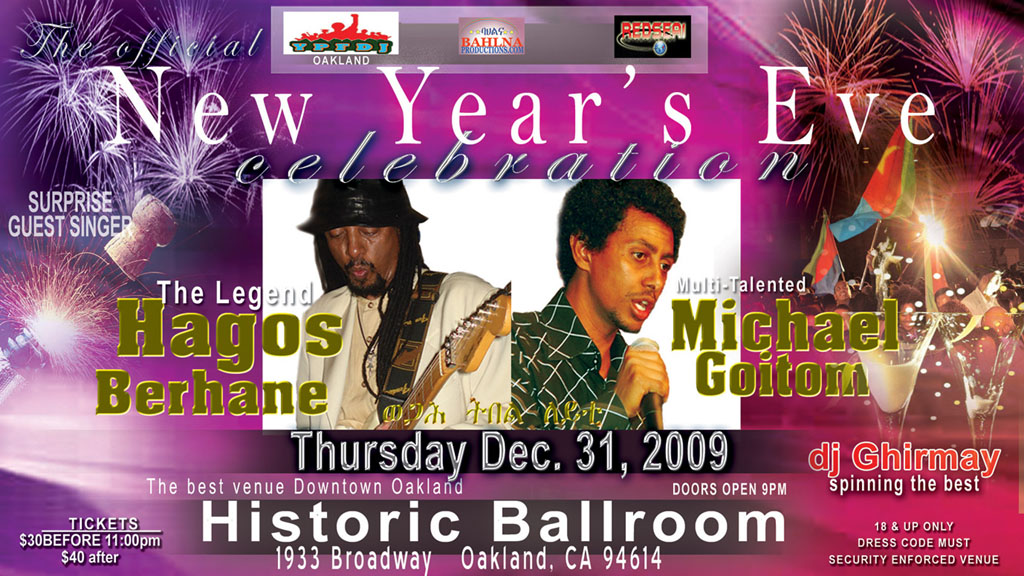 ---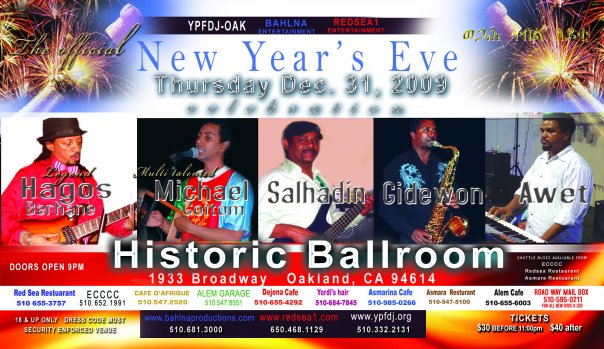 ----[This List to be used for Eritrea Related News Only]----
---
webmaster
© Copyright DEHAI-Eritrea OnLine, 1993-2009
All rights reserved