From: Fenan Russom <fenan.russom_at_gmail.com_at_dehai.org>
Date: Fri, 15 Jun 2012 19:17:19 -0500
[image: Inline image 1]
"Pay it forward" is the concept of asking that a good deed be repaid by
having it done for others instead. We ask you to help us help others by
donating some of the below ITEMS for our Orphanage Project! Small Acts Of
Kindness Can Make A Big Impact.
ü Reading/Coloring Books
ü School Supplies
ü Toys
ü Clothing/Shoes
For more information on Dallas Orphanage Project
CLICK HERE <
http://youtu.be/6bQ7RFEshIw
>
*ADDITIONAL INFORMATION ABOUT OUR PROGRAMS:*
Dallas Orphanage project was created two year ago with the hopes of making
a difference in our homeland of Eritrea. We had the opportunity and
pleasure to adopt a group home with twelve children over two years ago in
Emba Dorho . After many fundraising efforts, we were able to purchase a
motor to provide running water, build a shower, and buy school supplies and
much more. The hope of this organization is to continue where we left off
in providing the children with better living conditions.

-- 
"Be the change you want to see in the world."
                                                   ~ Mahatma Gandhi~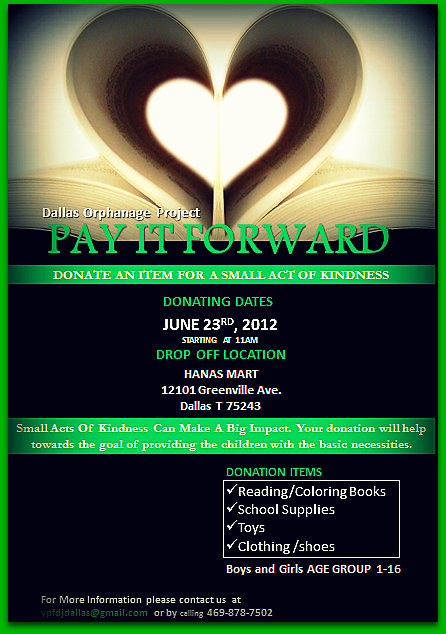 (image/jpeg attachment: payitforward1.jpg)
Received on Sun Jun 17 2012 - 01:12:30 EDT