---
<!!--#exec cgi="/cgi-bin/ssi_image/ssi_rand_image3.pl" -->
[dehai-news] Al Jazeera.net: Fresh fighting hits Yemen's north
---
From: Berhane Habtemariam (Berhane.Habtemariam@gmx.de)
Date: Sat Sep 05 2009 - 07:37:22 EDT
---
Fresh fighting hits Yemen's north

September 05, 2009
12:23 Mecca time, 09:23 GMT

Fighting between Houthi fighters and Yemen's national army has begun again
after a short-lived ceasefire broke down.

A military spokesman said on Saturday that fighting was fiercest in
al-Malahid and Hafr Sufyan, mountainous regions of the northern Saada
province.

"Dozens of people have been killed and wounded in both camps," the spokesman
said without elaborating. No official confirmation of the toll was
available.

Sanaa announced a unilateral ceasefire in its Scorched Earth offensive
against the Houthi fighters. The move was intended to allow humanitarian aid
into a conflict zone that has created thousands of refugees.

However, poor communication between the rival factions meant that the truce
had little chance of holding.

Al Jazeera's correspondent said various units in the remote and mountainous
terrain may not have even known a ceasefire had been announced.

Thousands displaced

The war has triggered a humanitarian crisis which is attracting the world's
attention only now.

The International Committee of the Red Cross (ICRC) said on Thursday that
more than 25,000 people had registered as displaced in Saada and Amran.

"The dire humanitarian situation is hitting women and children especially
hard," Daniel Gagnon, an ICRC official working in Yemen, said.

Other people are said to have fled as far as Sanaa, the capital in the
country's south, more than 185km away.

Aid agencies from the UN estimate that more than 100,000 people have been
forced to flee their homes.

Fighting reignited in the north last month and has continued primarily in
Saada, on the Saudi Arabian border.

Zaidi Shia Muslims are fighting for independence from a government which
they say is corrupt and too close to Saudi Arabia.

Both sides have already rejected ceasefire offers from the other party.

An offshoot of Shia Islam, Zaidis are a minority in mainly Sunni Yemen but
form the majority community in the north, some of whom want a return to the
imamate, which was overthrown in a 1962 coup.

The conflict first began in 2004.

http://english.aljazeera.net/mritems/Images/2009/9/5/20099574245856368_5.jpg

In depth

http://english.aljazeera.net/mritems/Images/2009/8/12/2009812101218354371_8.
jpg


<http://english.aljazeera.net/news/middleeast/2009/09/20099514813918507.html
> Video: Shaky truce in Yemen


<http://english.aljazeera.net/news/middleeast/2009/08/200981294214604934.htm
l> Profile: Yemen's Houthi fighters


<http://english.aljazeera.net/programmes/insidestory/2009/08/200981314245634
3526> Inside story: Yemen's future

---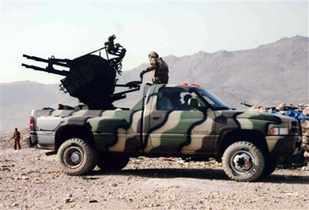 ---

----[This List to be used for Eritrea Related News Only]----

---
webmaster
© Copyright DEHAI-Eritrea OnLine, 1993-2009
All rights reserved