---
<!!--#exec cgi="/cgi-bin/ssi_image/ssi_rand_image3.pl" -->
[dehai-news] (Diplomatrus) Pushkin Sets out for Eritrea
---
From: Biniam Haile \(SWE\) (eritrea.lave@comhem.se)
Date: Wed Jul 08 2009 - 22:18:16 EDT
---
Pushkin Sets out for Eritrea

Column: The Arts

Main | Archive | Issue 2/2009

This year will mark the 210th anniversary of the birth of the great
Russian poet Alexander Pushkin. A monument to him is to be unveiled in
the main square of Asmara, the capital of Eritrea, on May 24. That is
also Independence Day in the State of Eritrea. It is this young African
nation that is considered the home of Alexander Pushkin's
great-grandfather, the Russian general Hannibal, otherwise known as the
"Moor of Tsar Peter the Great."

I got the idea of putting up a statue of Pushkin there a couple of years
ago. The idea was wholeheartedly supported by Eritrea's Ambassador
Teclay Minassie Asgedom. The Moscow sculptor N.A. Kuznetsov-Muromsky
made a bronze mockup of the monument in 2007. The architects M.V.
Ozherelyeva and M.I. Sudakov worked on the design for the reconstruction
of Asmara square and for the monument's pedestal.

The patrons of the arts V.I. Demkov, A.G. Shkuro, V.P. Melnikov, and
E.O. Chovushyan sponsored different stages of the work.

The last ten years, I have managed, together with the sponsors, to erect
statues of Pushkin in the Norwegian capital Oslo, the town of Golitsino
near Moscow, a bronze bust of him in the city of Banja Luka (Bosnia and
Herzegovina), and a bronze sculpture of him in the Chinese city of
Ningbo. It is my hope that statues of Pushkin will also appear in other
countries around the world at some time in the future.

I.P. Novosyolov, Vice President, Academy for Security, Defense, Law and
Order Studies.

Photos by the author http://www.diplomatrus.com/article.php?id=1756
<http://www.diplomatrus.com/article.php?id=1756&PHPSESSID=dd4548f38d6c0f
b95&l=eng> &PHPSESSID=dd4548f38d6c0fb95&l=eng


<http://www.skokienet.org/files/images/487px-AleksandrPushkin.preview.jp
g>


---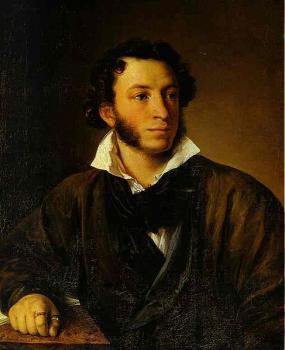 ----[This List to be used for Eritrea Related News Only]----

---
webmaster
© Copyright DEHAI-Eritrea OnLine, 1993-2009
All rights reserved