---
<!!--#exec cgi="/cgi-bin/ssi_image/ssi_rand_image3.pl" -->
[dehai-news] PressTV: 'Ethiopia ready to support Somalia govt.'
---
From: Berhane Habtemariam (Berhane.Habtemariam@gmx.de)
Date: Wed Jul 08 2009 - 15:20:58 EDT
---
'Ethiopia ready to support Somalia govt.'

Wed, 08 Jul 2009 14:17:33 GMT

Somalia's President Sheikh Sharif Sheikh Ahmed says Ethiopia is ready to
exhaust full resources to wipe out the Somali-based militancy.

On Wednesday, Sharif said Addis Ababa had voiced readiness to root out
al-Shabaab militants who threatened to overthrow his Transitional Federal
Government (TFG), a Press TV correspondent reported.

Speaking with the Ethiopian Prime Minister Meles Zenawi and Foreign Minister
Seyoum Mesfin following a meeting in the Ethiopian capital, the president
said Addis Ababa had promised a solid foreign policy approach towards
Mogadishu.

The comments came months after Ethiopia wound down an unsuccessful
anti-insurgency campaign in Somalia.

Al-Shabaab fighters, who currently hold sway in vast expanses of central
Somalia as well as parts of its capital, have in the past launched bitter
offensives against the Ethiopian forces.

During the invasion, the Ethiopia troops reportedly took prisoner some
fighters enlisted with the Union of Islamic Courts (UIC), a key faction of
the Somali opposition and the former leaders of al-Shabaab.

The UIC has recently joined forces with the TFG, denouncing the gunmen for
their violence.

Sharif will reportedly push for the release of the prisoners in an upcoming
meeting with Ethiopian officials.

http://www.presstv.ir/photo/20090708/naderian20090708172714718.jpg

Militants training in the capital, Mogadishu

---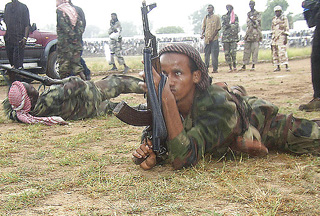 ----[This List to be used for Eritrea Related News Only]----

---
webmaster
© Copyright DEHAI-Eritrea OnLine, 1993-2009
All rights reserved