---

<!!--#exec cgi="/cgi-bin/ssi_image/ssi_rand_image3.pl" -->
[dehai-news] Garoweonline.com: Somalia: Hizbul Islam rebel chief critical of Al Shabaab move
---
From: Berhane Habtemariam (Berhane.Habtemariam@gmx.de)
Date: Wed Feb 03 2010 - 08:53:12 EST
---
Somalia: Hizbul Islam rebel chief critical of Al Shabaab move
Feb 3, 2010 - 9:14:33 AM

The leader of Somalia's Hizbul Islam group, Sheikh Hassan Dahir Aweys has
refutted claims that one of the coalition partners has ditched to
Al-Shabaab.

Sheikh Aweys who addressed reporters in Mogadishu on Tuesday said that he
received information of his deputy Sheikh Hassan Abdullahi Al-Turki joining
Al-Shabaab but refuted that Turki led his own Raskamboni Brigade to the
rebel group.

"Sheikh Turki has joined Al-Shabaab but that does not mean Raskamboni has
indeed joined our brothers Al-Shabaab," he said, adding that Al-Shabaab has
violated an agreement between the two groups by convincing the fighters of
his group join to them.

His sentiments were ochoed by two other Hizbul Islam officials who said that

"We, as a group, were not involved anyway with the Baidoa agreement. We are
telling Somalis that we are still part of Hizbul Islam," said Barre Ali
Barre, an official who spoke for Raskamboni.

Sheikh Ahmed Mohammed Islam 'Madobe' who is a top Hizbul Islam official said
there is animosity between the two groups and that there will be not
agreement, vowing to fight anyone who joins Al-Shabaab.

"Al-Shabaab and us are enemies and we don't have any relationship whatsoever
apart from war and I am telling you that whoever joins Al-Shabaab, we will
also fight him," he said, adding that the decision by Sheikh Turki was
insane.

In a ceremony which was held on Monday in the southern city of Baidoa,
Sheikh Al-Turki jointly signed and agreement with Al-Shabaab's enigmatic
leader Sheikh Muqtar Abdurahman Abu Zubeyr, declaring merging of forces with
the group.

The disagreement between Hizbul Islam and Al-Shabaab, which have been
involved in armed struggle against the fragile Somali government and African
Union peacekeeping force in Mogadishu, erupted on November last year over
the control of southern Somali towns, notably the port city of Kismayo.

http://www.garoweonline.com/artman2/uploads/2/aweys5_1.jpg

Sh. Aweys, Hizbul Islam rebel chief

---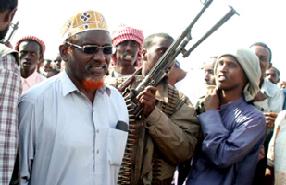 ----[This List to be used for Eritrea Related News Only]----

---


webmaster
© Copyright DEHAI-Eritrea OnLine, 1993-2010
All rights reserved