---

<!!--#exec cgi="/cgi-bin/ssi_image/ssi_rand_image3.pl" -->
[dehai-news] (ON) Heavy causualties reported among Woyana forces
---
From: Biniam Haile \(SWE\) (eritrea.lave@comhem.se)
Date: Fri Jan 29 2010 - 23:04:34 EST
---
Heavy causualties reported among Woyana forces

Thursday, 28 January 2010 02:19 Ogaden Online

The Ogaden National Liberation Front [ONLF] forces have carried out
heavy attacks against Ethiopian troops occupying the Ogaden. Heavy
casualties, including deaths and injuries, were inflicted on enemy
Ethiopian troops in the attacks, which occurred in various parts of the
Ogaden, and military equipment was captured from them.

On 11 January 2010, Ogaden liberation fighters carried out nocturnal
attacks on enemy Ethiopian army bases in Degah Madow and Danod towns in
Jerar and Dolo provinces, respectively. Twenty-two members of the
despondent army were killed and 15 others were wounded. The number of
soldiers wounded in the Danod attack is unavailable.

In unplanned battles between units of Ogaden liberation army and
Ethiopian troops in Addiye and Walwal, five Ethiopian soldiers were
killed and three others were wounded.

On 15 and 18 January 2010, ONLF fighters and Ethiopian troops clashed in
Hurale and Bako villages in Jerar province. Twenty-one Ethiopian
soldiers were killed and 19 others were wounded in the fighting.

On 13 January 2010, Ogaden liberation fighters carried a planned attack
against enemy soldiers stationed at El Buro in Babile town, Jijiga
province, killing 13 members of the Woyana army and wounding 16 others,
some seriously.

On 3 and 16 January 2010 ONLF special units carried out a well-planned
and well-executed attacks on weakling Ethiopian soldiers based in
Darasalam in Nogob province, killing five soldiers and wounding seven
others. Details about casualties resulting from the 16 January attack
are not available.

Heroic Ogaden liberation fighters mounted a nocturnal attack on
Ethiopianl military base in Gerigo'an town, Nogob province. Massive
losses were inflicted on the enemy, details of which are not
unavailable.

http://www.ogaden.com/hornnews/ethiopia/631-heavy-causualties-reported-a
mong-woyana-forces


<http://www.ogaden.com/images/stories/demo/other/ONLF_War.jpg>



---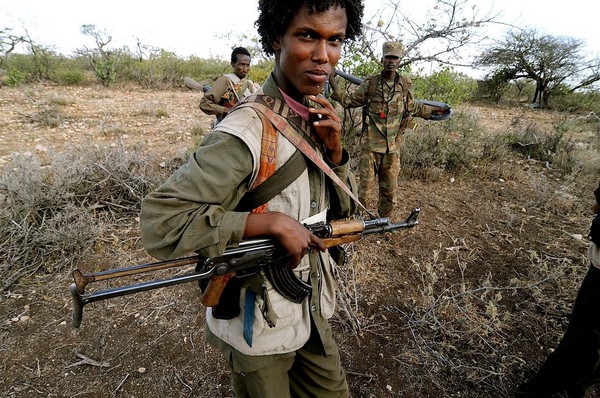 ----[This List to be used for Eritrea Related News Only]----

---


webmaster
© Copyright DEHAI-Eritrea OnLine, 1993-2010
All rights reserved