---

<!!--#exec cgi="/cgi-bin/ssi_image/ssi_rand_image3.pl" -->
[dehai-news] Shabait.com: Inhabitants of Anseba And Southern Red Sea Regions Express Readiness To Strengthen National Unity And Rebuff External Hostilities
---
From: Berhane Habtemariam (Berhane.Habtemariam@gmx.de)
Date: Sun Jan 17 2010 - 13:05:34 EST
---
Inhabitants of Anseba And Southern Red Sea Regions Express Readiness To
Strengthen National Unity And Rebuff External Hostilities

Keren, Assab, 17 January 2010 - The inhabitants of Southern Red Sea and
Anseba regions reiterated their readiness to reinforce national unity and
rebuff external ploys. They made this statement in seminars conducted by
members of People's Front for Democracy and Justice (PFDJ) regarding the
objective situation in the country and organized national development plan
of 2010.

Stating that the question of national security is of the utmost priority,
inhabitants of Anseba region expressed their commitment for better and
stronger coordination so as to overcome any external hostilities and pledged
that they will continue to work towards realizing the mapped out development
plans, regardless of difficulties.

http://www.shabait.com/images/stories/zemihret-in-keren.jpgIn a speech he
delivered at the seminar conducted in Keren, the Head of Research and
Documentation at the PFDJ, Mr. Zemhret Yohannes gave extensive briefings
regarding the motive behind the unjust US sanctions resolution imposed in
the name of Security Council. He said that the sanction which has been
imposed following 12 years of barely disguised animosity is a continuation
of the US Administration's hostility and crimes against the Eritrean people
in the past 60 years. He further underlined that the resolution is designed
to sabotage the dynamic development achievements registered in all sectors
through the concerted efforts of people, Government as well as members of
the Eritrean Defense Force (EDF). Moreover, Mr. Zemhret called on all
nationals to strengthen their organization and resolve to overcome all forms
of conspiracies.

Similarly, in a meeting he conducted in the port city of Assab, the Head of
Economic Affairs at the PFDJ, Mr. Hagos Gebrehiwet pointed out that the
history of thehttp://www.shabait.com/images/stories/hagos-gebrehiwet.jpg
Eritrean people is witness to the fact that they have always triumphantly
prevailed despite the strong odds against their very existence and expressed
his conviction that they will staunchly overcome the recent US-engineered
sanctions resolution.

In the seminar in which various government and PFDJ officials, village
elders, religious leaders and members of the national assembly participated,
Mr. Hagos underscored that the recent sanctions resolution is merely a
continuation of the unrelenting antagonism against Eritrea which will only
serve in reinforcing the people's resolve to step up their development
endeavors.

Noting that this unjust sanction has provoked anger and spirit of resistance
among Eritreans inside the country and abroad, Mr. Hagos explained that
plans have been outlined to enhance people's awareness as regards this
matter so that people's resolve can go beyond temporary anger.

The participants of the seminar on their part indicated that the continued
aggressions and conspiracies only further strengthened the people's resolve
and reiterated their pledge to play their due role in rendering the
sanctions resolution ineffective.

---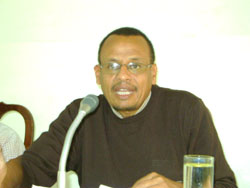 ---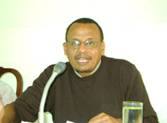 ---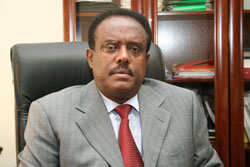 ---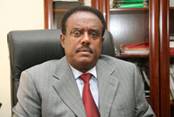 ----[This List to be used for Eritrea Related News Only]----

---


webmaster
© Copyright DEHAI-Eritrea OnLine, 1993-2010
All rights reserved