---
[dehai-news] (SMC) Movement between Sudan & Eritrea Suggested be by Identity Card
---
From: Biniam Haile \(SWE\) (eritrea.lave@comhem.se)
Date: Tue Mar 24 2009 - 11:15:28 EST
---
Sudanese Media Center

Tuesday 24 March 2009

Movement between Sudan & Eritrea Suggested be by Identity Card

Khartoum (smc)

Foreign minister Deg Alor following the return of president Al-Bashir
from his visit to Asmara, Eritrea that president Bashir gave instruction
to facilitate movements between Sudan and Eritrea by using identity
cards.


Sudanese Media Center

Tuesday 24 March 2009

Ocampo Irresponsible Man/Aforki

Khartoum (smc)

President Al-Bashir concluded one day visit to Asmara, Eritrea yesterday
in response to an invitation extended to him by his counterpart Assisi
Aforki. Basher visit to Eritrea comes as first trip abroad since ICC
decision of indicting him on background of Darfur crisis.

When in Asmara Bashir said he made his visit in appreciation to
president Aforki and his people supportive stand against ICC.

For his part president Aforki said he and his people oppose ICC decision
against Bashir on background that the decision is a political operation
aims destabilizing stability in Sudan.

Aforki adds that ICC has no right to charge a president leave alone
arresting him.

Moreover, Aforki describes ICC prosecutor general Luis Ocampo statement
of arresting Bashir immediately once he departs Sudan clearly shows that
the man is irresponsible.

http://english.smc.sd/enmain/entopic/?artID=16796


http://english.smc.sd/enmain/entopic/?artID=16798

<http://www.smc.sd/imagx/alor.jpg>


<http://www.smc.sd/imagx/afogee.jpg>

---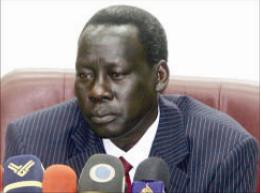 ---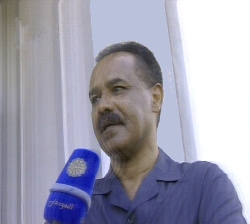 ----[This List to be used for Eritrea Related News Only]----

---
webmaster
© Copyright DEHAI-Eritrea OnLine, 1993-2009
All rights reserved