---
[dehai-news] America.gov: President Obama Nominates New Assistant Secretary for Africa
---
From: Berhane Habtemariam (Berhane.Habtemariam@gmx.de)
Date: Tue Mar 24 2009 - 08:28:43 EST
---
President Obama Nominates New Assistant Secretary for Africa

24 March 2009

Senate will assess choice of Amb. Johnnie Carson for State Department post

Washington - President Obama on March 20 announced his intent to nominate
career diplomat and three-time U.S. ambassador in Africa Johnnie Carson as
the next U.S. assistant secretary of state for African affairs.

If confirmed by the Senate, Carson will succeed Jendayi Frazer, who served
in the post during the Bush administration.

Carson is currently the national intelligence officer for Africa on the
National Intelligence Council. He joined the council in September 2006 after
a 37-year career in the foreign service. Prior to this appointment, Carson
served as the senior vice president of the National Defense University in
Washington from 2003 until 2006.

Carson's foreign service career includes ambassadorships to Kenya
(1999-2003), Zimbabwe (1995-1997) and Uganda (1991-1994). He also served as
principal deputy assistant secretary for the State Department's Bureau of
African Affairs from 1997 through 1999. Earlier in his career, he served in
Portugal, Botswana, Mozambique and Nigeria as well as in the Africa section
of the State Department's Bureau of Intelligence and Research.

Before joining the foreign service, Carson was a Peace Corps volunteer in
Tanzania. He holds an undergraduate degree in history and political science
from Drake University and a master's degree in international relations from
the University of London.

The U.S. Centers for Disease Control and Prevention presented Carson with
its Champion of Prevention Award for his leadership in directing the U.S.
government's HIV/AIDS prevention efforts in Kenya.

Senator Russ Feingold, the chairman of the Senate Foreign Relations
Committee's Subcommittee on African Affairs, called Carson's nomination "a
strong choice."

"Carson is an accomplished career foreign service officer with an excellent
track record on African issues spanning many decades and a range of
positions," Feingold said. "Carson has a deep understanding of our
diplomatic capacities and the importance of regular interagency
collaboration. I look forward to considering his nomination and hearing how
he and the administration plan to address the many challenges we face on the
African continent."

Head shot of Amb. Carson with flag backdrop (Courtesy Amb. Carson)

Ambassador Johnnie Carson

---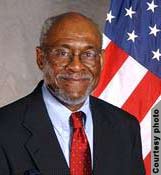 ----[This List to be used for Eritrea Related News Only]----

---
webmaster
© Copyright DEHAI-Eritrea OnLine, 1993-2009
All rights reserved