---
[dehai-news] VOA: Somalia Peacekeeping Effort Encounters Country's Resistance to Foreign Intervention
---
From: Berhane Habtemariam (Berhane.Habtemariam@gmx.de)
Date: Mon Mar 23 2009 - 10:56:40 EST
---
Somalia Peacekeeping Effort Encounters Country's Resistance to Foreign
Intervention

By Derek Kilner
Nairobi
23 March 2009

SomaliaThe Somali government's appeal for more African Union peacekeepers
has encountered steep resistance within the country. Both Islamist
insurgents opposing the government and a group of clerics who back the
president have spoken out against plans to send additional troops.

For Somalia's new president, Sheikh Sharif Ahmed, security is priority
number one. A moderate Islamist, who has been a teacher and an insurgent
leader, President Ahmed enjoys considerable popularity, both within Somalia
and abroad.

But hard-line Islamist insurgents control much of the south and central
parts of the country and government forces exercise firm control in only a
few blocks of the capital, Mogadishu.

Friday, President Ahmed dispatched his foreign minister to the United
Nations Security Council to appeal for additional African Union
peacekeepers. About 3,400 Ugandan and Burundian troops are stationed in
Mogadishu, although the mission is authorized to deploy 8,000.

However, the presence of the A.U. troops is encountering growing resistance
in the country, from both allies and opponents of the government.

Islamist insurgent groups opposed to the government, including Al-Shabab and
Hizbul Islam, have long rejected the A.U. presence and have launched
sporadic attacks on the peacekeepers.

A group of Islamic scholars and clerics allied with the government have
condemned attacks on peacekeepers, but have also called for their departure.
Sunday, a leading cleric, Sheikh Ahmed Dhisow, criticized the request for
more troops.

He is calling the appeal for the peacekeepers "regrettable", saying that
foreign troops should not be deployed in an independent country.

Islamic clerics had previously called for A.U. troops to leave in the next
few months.

Elders from the country's largest clan, the Hawiye, have also criticized the
call for more troops. Even the government appears divided on the issue.
Somalia's information minister has disputed the foreign minister's claim
that the government is seeking more peacekeepers.

Monday, a leader of the Hizbul Islam insurgent group Sheikh Hassan Mahdi,
said new peacekeepers had already arrived in the country.

He says 600 troops arrived on two planes at the Mogadishu airport,
Wednesday, before the foreign ministers appeal to the United Nations on
Friday, and that no troops have left the country.

Uganda has said it is planning to rotate in a new batch of 1,700 soldiers in
October.

Somalia has long displayed hostility to foreign forces. The intervention by
American and U.N. forces in the early 1990s was famously unsuccessful.
Ethiopian troops, who entered the country in late 2006 to drive out
Islamists who had taken power, left the country early this year after two
years of battling Islamist insurgents.

But the government's alternatives for establishing security are limited. The
United Nations maintains an arms embargo on Somalia that limits the fragile
government's ability to build up its military. Friday, Somalia's foreign
minister asked the Security Council to lift the embargo. The African Union's
Peace and Security Council has issued a similar request

---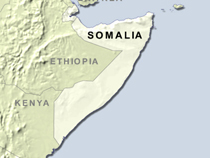 ----[This List to be used for Eritrea Related News Only]----

---
webmaster
© Copyright DEHAI-Eritrea OnLine, 1993-2009
All rights reserved