---
[dehai-news] (Reuters): Outside forces ravaging Africa: Vatican
---
From: Berhane Habtemariam (Berhane.Habtemariam@gmx.de)
Date: Thu Mar 19 2009 - 12:57:02 EST
---
Outside forces ravaging Africa: Vatican

Thu Mar 19, 2009 3:47pm GMT

By Philip Pullella

<javascript:launchArticleSlideshow();> PhotoYAOUNDE (Reuters) - A Vatican
document coinciding with Pope Benedict's trip to Africa says "outside
forces" are complicit with corrupt leaders to fuel wars, traffic weapons and
back politicians irrespective of human rights and democracy.

The document on Africa was released on Thursday, three days into his trip as
the Vatican was still trying to contain the damage from his comments on the
use of condoms to fight AIDS.

Without going into details, the document criticised "multinational
organisations" that, hand-in-hand with some African leaders, invaded the
continent in search of natural resources.

Pope Benedict handed the 60-page document to bishops at the end of a mass
for tens of thousands of people at a stadium on Thursday morning in the
capital of Cameroun on his last full day here. He files to Angola on Friday.

"Outside forces, in complicity with men and women on the African continent,
exploit the wounded state of the human heart...," says the working document
prepared by a Vatican committee for a synod of Roman Catholic bishops from
Africa due to take place at the Vatican in October.

"They fuel wars so as to sell arms. They back those in power, irrespective
of human rights and democratic principles, so as to guarantee economic
benefit (such as) the exploitation of natural resources ... they threaten to
destabilise entire nations and to eliminate persons who wish to free
themselves from their oppression," it said.

The document, which spoke of "a process organised to destroy African
identity" through modernity, did not specifically name the outside forces or
any African country or leader.

Many African countries have huge mineral and hydrocarbon deposits whose
value is, in theory, enough to finance infrastructure projects, create jobs
and raise living standards.

CORRUPTION RAMPANT

Critics say senior officials use these resources to enrich themselves,
depriving treasuries of much-needed cash.

Nigerian state oil firm Nigerian National Petroleum Corporation, for
example, has been plagued by corruption for decades, with billions of
dollars of oil money going to a handful of influential Nigerians while the
rest of the country lives on less than $2 a day.

Guinea is the world's top exporter of aluminium ore bauxite, but most of its
population live in poverty.

The document says: "Multinational organisations continue to systematically
to invade the continent in search of natural resources. In complicity with
African leaders, they oppress local companies, buy thousands of hectares of
land and expropriate populations from their land."

The trip is still overshadowed by the controversy sparked when the pope said
condoms "increase the problem" of AIDS.

A Washington Post editorial on Thursday said: "That the pope chose to
question the value of condoms in fighting the nearly 28-year-old scourge
while heading to the continent whose people are most affected by it is
troubling."

French newspaper Le Monde said: "Nobody ever said that condoms were the only
solution to fight against AIDS. But to argue that they aggravate the
pandemic is very serious and irresponsible. His predecessor John Paul never
went that far."

Leading members of the governments of France, Belgium and the pope's native
Germany have bluntly criticised the pope.

The Vatican spokesman defended the pope's stand, saying Benedict was merely
re-stating the position of his predecessors that fidelity within
heterosexual marriage and abstinence are the best ways to stop AIDS.

In his first event on Thursday, day the pope met 22 Muslim leaders and urged
Christians and Muslims in Africa to shun inter-religious violence.

C Thomson Reuters 2009 All rights reserved

---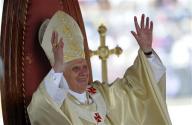 ----[This List to be used for Eritrea Related News Only]----

---
webmaster
© Copyright DEHAI-Eritrea OnLine, 1993-2009
All rights reserved