---
[dehai-news] (AFP): Freed opposition chief slams Sudan response to warrant
---
From: Berhane Habtemariam (Berhane.Habtemariam@gmx.de)
Date: Wed Mar 11 2009 - 14:47:59 EST
---
Freed opposition chief slams Sudan response to warrant

by Guillaume Lavallee |

March 11, 2009

_____

Hassan Turabi

Hassan Turabi (AFP)

KHARTOUM (AFP) - Islamist opposition leader Hassan al-Turabi on Monday
defiantly slammed Sudan's response to the international arrest warrant
against President Omar al-Beshir, hours after being freed from jail.

Turabi, the only leading Sudanese politician to have expressed public
support for the International Criminal Court proceedings against Beshir for
alleged war crimes in Darfur, said two months in jail had not changed his
view.

"I am a man of law, I believe in international justice," he told AFP in his
house in Khartoum. "We accept international justice, whether it is for us or
against us."

A onetime Beshir mentor who later became one of the veteran president's
fiercest critics, Turabi said the arrest warrant had thrown the Khartoum
regime into disarray.

"The government is now in crisis, nobody knows how to conduct political
affairs," he said. "There are reactions here that have no rationality... We
must win freedom step by step."

A guiding light in the bloodless 1989 coup that swept Beshir to power,
Turabi was particularly critical of Sudan's decision to expel 13 foreign aid
agencies in response to the warrant.

"They want to provoke the world against them," he charged.

UN agencies have warned that expelling the relief groups, which account for
more than half of aid distribution in Darfur, will have "devastating
implications" for the 2.7 million people made homeless by the six-year-old
conflict there.

Humanitarian chief John Holmes told a media briefing at the United Nations
on Monday the world body would keep pressing for the decision to be
reversed.

"We continue to ask the government of Sudan to reverse it as soon as
possible," he said.

Turabi said he had not been surprised by the ICC decision to issue the
warrant on charges of war crimes and crimes against humanity, although not
genocide, following a recommendation from prosecutor Luis Moreno-Ocampo.

"I read of course the memo of Ocampo, and I think it was really
substantial," he said. "I knew that it would not be rejected completely."

Sudanese security officers arrested Turabi on January 14, two days after he
urged Beshir to surrender to the ICC.

"Politically we think he is culpable... He should assume responsibility for
whatever is happening in Darfur, displacement, burning all the villages,
rapes, I mean systematic rapes, continuously, I mean on a wide scale and the
killing," he had said before his arrest.

Turabi, who has been in and out of prison over a career spanning some four
decades, said he had no idea why he was freed.

His family said they had told the authorities they were concerned about his
health, but the 77-year-old appeared physically strong after his detention.

Turabi was last detained briefly in May with members of his Popular Congress
party, following an unprecedented attack on Khartoum by Darfur rebels of the
Justice and Equality Movement which shares his Islamist ideology.

In July 2005 he was released after more than a year in detention following
an alleged coup plot.

Regarded as one of the driving forces behind the introduction of Islamic
sharia law in Africa's largest country in 1983, Turabi became the
president's mentor.

In 1989 he rallied behind Beshir, then an obscure general, to overthrow the
democratically elected government of his brother-in-law, Sadeq al-Mahdi.

As senior statesman, Turabi became what many considered to be the real power
in a country he steered towards rigorous Islamic practices.

But he lost a protracted power struggle with Beshir and was stripped of his
posts a decade later.

He has since become a fierce critic of the war the army and its Arab militia
allies have fought against ethnic minority rebels in Darfur.

The United Nations says up to 300,000 people have been killed in the
conflict, but Khartoum insists only 10,000 have died.

---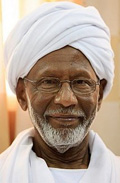 ----[This List to be used for Eritrea Related News Only]----

---
webmaster
© Copyright DEHAI-Eritrea OnLine, 1993-2009
All rights reserved