---
[dehai-news] (QNA) Qatar- Eritrea hold a round of official talks
---
From: Biniam Haile \(SWE\) (eritrea.lave@comhem.se)
Date: Tue Mar 10 2009 - 13:49:15 EST
---
Qatar- Eritrea hold a round of official talks

Doha, March 10 (QNA) - A round of official talks commenced at the Emiri
Diwan before noon Tuesday between H.H. the Emir Sheikh Hamad bin Khalifa
al Thani and President Isaias Afwerki of Eritrea.

The talks were attended by H.E. the Minister of Economy and Finance
Youssuf Hussein Kamal, Chief of the Emiri Diwan H.E. Sheikh Abdurrahman
bin Saud al Thani, H.E. the Minister of State for International
Cooperation Dr. Khalid bin Mohammed al Attiyah who is also head of the
accompanying mission of honour , Director of H.H. the Emir's Office H.E.
Sheikha Hind bint Hamad bin Khalifa al Thani, Secretary of H.H. the Emir
for Follow Up affairs H.E. Sa'ad bin Mohammed al Rimaihi, Qatar s
Ambassador to Eritrea H.E. Mohammed Ali al Noeimi and Director of the
Asian and African Affairs Department at the Foreign Ministry Ambassador
Abdulrahman Mohammed al Kholeifi.

>From the Eritrean side, the talks were attended by the Director of the
president's office Al Amin Hassan Al Amin and Eritrea s Ambassador to
Qatar H.E. Ali Ibrahim Ahmed.

The talks covered the relations of bilateral cooperation besides several
topics of concern to both sides. (QNA)

http://www.qnaol.net/QNAEn/Local_News/Politics/Pages/Qatar-Eritreaholdar
oundofofficialtalks205110032009.aspx


<http://www.qnaol.net/SiteCollectionImages/Daily_News/2009/MARCH/10-03-2
009/Qna_HHEmir_ERITREA.jpg>

---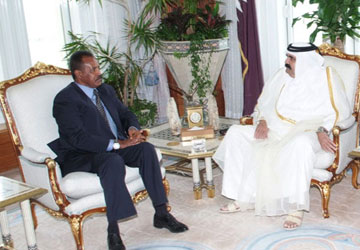 ----[This List to be used for Eritrea Related News Only]----

---
webmaster
© Copyright DEHAI-Eritrea OnLine, 1993-2009
All rights reserved