---
[dehai-news] Screening of One Childhood in Washington D.C was very successful.
---
From: michael seium (michael.seium@gmail.com)
Date: Tue Mar 10 2009 - 00:14:34 EST
---
Screening of One Childhood in Washington D.C was very successful.

The Eritrea Cultural and Civic Center in Washington DC, with the Assistance
of
the Embassy of Eritrea hosted an afternoon and evening screening of One
Childhood on Saturday Feb 28th. There were around 100 young people from the
youth team for the afternoon screening, and some 150 in the evening. The
Plans
are being made by the Eritrea civil society groups to hold similar events
with
their related groups elsewhere in the US.

The attached photo from the screening shows, right to left:

Mekonnen Gebre-Mariam: youth program leader,
Eritrea Cultural and Civic Center, Washington DC
Tim Baney, Director, One Childhood
Carla Bertoncino and Don Bundy, Executive Directors,
Michael Seium: Broadcast journalist/Producer and youth organizer,
Freweini Abraham: Culture and Education Officer, Embassy of Eritrea

Written by Don Bundy,

For further articles check out the blog of Mr.Shanta Devarajan the Chief
economist of
the Africa Region at the world bank at the following link.

This is a classic example of how the Eritrean Govt. in partnership
(PARTNERSHIP) with the world bank worked hard to make sure that the child
care development program was a success.

See link below.

http://africacan.worldbank.org/category/countries/eritrea

Eritrea
One childhood <http://africacan.worldbank.org/one-childhood>Submitted by
Shanta <http://africacan.worldbank.org/users/shanta> on Thu, 02/26/2009 -
09:56.

Rarely do we come across a video that is visually beautiful, intellectually
stimulating and emotionally inspiring. "One childhood" is a documentary
about how schools and schoolteachers in Eritrea are part of the campaign to
improve children's health. Based on the actual findings of two thorough
technical evaluations that showed the wide coverage and effectiveness of the
Eritrea programs, the film tells the story of how school health is now being
delivered in the mountains of Eritrea, in the arid lands of the Red Sea
coast and in urban Asmara. Available
onYouTube<http://www.youtube.com/watch?v=19yIGjH3joE>,
where it has been seen by 14,000 people in a month—probably 13,980 more than
read the two technical reports—the film has won the CINE Golden Eagle
award<http://www.cine.org/golden-eagle-award.php>.
It can also be viewed here <http://africacan.worldbank.org/one-childhood>.

---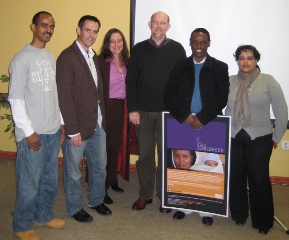 ----[This List to be used for Eritrea Related News Only]----

---
webmaster
© Copyright DEHAI-Eritrea OnLine, 1993-2009
All rights reserved