---
[dehai-news] Shabait.com: International Women's Day marked across nation in colorful manner
---
From: Berhane Habtemariam (Berhane.Habtemariam@gmx.de)
Date: Sun Mar 08 2009 - 13:44:06 EST
---
International Women's Day marked across nation in colorful manner
By Staff
Mar 8, 2009, 13:20

http://www.shabait.com/articles-new/uploads/8march_08032009.jpg

Asmara, 8 March 2009 - International Women's Day was colorfully marked today
across the nation under the theme: "Youths: Guarantors of Bright Future."

Speaking at the celebrations held here in Asmara at the regional level, the
Administrator of the Central region, Mr. Tewolde Kelati, indicated that the
Day reminds us all the significance of ensuring equality, mutual respect and
equitable participation of both sexes in various aspects. In this respect,
he explained that Eritrean women have been actively engaged in the struggle
and that they have accomplished exemplary task that amply demonstrated the
real meaning of equality and its vital significance.

Outlining the major accomplishments registered in the struggle to ensure
equality and the active participation and contribution of women to this end,
Mr. Tewolde underscored that ensuring equal participation in various domains
constitutes a driving force for the ongoing endeavors to build a developed
and prosperous nation.

http://www.shabait.com/articles-new/uploads/8march_08032009_01.jpg

The head of NUEW branch in the region, Ms. Teke'a Tesfamichael, on her part
stated that as the this year's observances is taking place on the occasion
of the 30th anniversary of the Union, women youths have the responsibility
of reinforcing the struggle of brining about social change and equality.

Different programs, including poetry recitals, drama shows and other
artistic works highlighting the paramount importance of the Day were staged
on the occasion. Moreover, prizes were awarded to female students who score
90 to 100 marks in the National Grade 8 Exams.

Meanwhile, NUEW branch in Dubai and North Emirates, as well as those in
Jeddah marked International Women's Day in a colorful manner, according to
reports. The Eritrean General Consul in Dubai and North Emirates, Mr.
Yohannes Teklemichael, called on the Union's branch office to strength its
activities and asserted that the Consular Office would extend the necessary
cooperation to this end. Also on the occasion, the Eritrean Community in
Dubai and North Emirate donated a total of 2,000 Durham towards
strengthening the activities of the Union.

http://www.shabait.com/articles-new/uploads/8march_08032009_02.jpg

Likewise, the Chairperson of NUEW branch in Jeddah, Ms. Nura Haj Ali,
pointed out that as part of efforts to equip Eritrean women youth with the
necessary knowledge and skill, the branch office is constructing a women
training center in Elabered.

---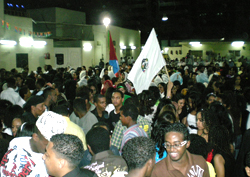 ---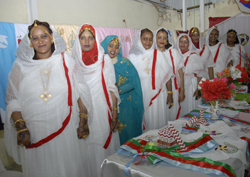 ---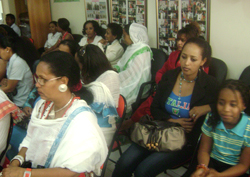 ----[This List to be used for Eritrea Related News Only]----

---
webmaster
© Copyright DEHAI-Eritrea OnLine, 1993-2009
All rights reserved