---
[dehai-news] Shabait.com: President inspects work progress of Aligidir water diversion scheme and Gerset Dam
---
From: Berhane Habtemariam (Berhane.Habtemariam@gmx.de)
Date: Fri Mar 06 2009 - 12:02:12 EST
---
President inspects work progress of Aligidir water diversion scheme and
Gerset Dam
By Staff
Mar 6, 2009, 15:07

http://www.shabait.com/articles-new/uploads/pia_gashbarka_06032009.jpg

Barentu, 6 March 2009 - President Isaias Afwerki conducted a tour of
inspection in Gash-Barka region from March 4 to 5, during which he observed
the renovation process of the Aligidir water diversion scheme and the work
progress of Gerset Dam.

The President received briefings by experts on the 18 km-long renovation
process and the tasks so far accomplished. In this respect, he put forth
ideas on ways of facilitating the renovation process and constructing an
effective water diversion scheme.

http://www.shabait.com/articles-new/uploads/pia_gashbarka_06032009_01.jpg

Inspecting the efforts being exerted to offset the damage inflicted on
agricultural lands as a result of the fluctuating direction of the Gash
River in connection with the amount of rainfall, President Isaias conducted
discussion with project managers and agricultural experts on the program
envisaged to effectively renovate the infrastructure of the Aligidir water
diversion scheme and the tasks that should be undertaken in the main feeders
and canals of the scheme so as to make it more effective. He also exchanged
views with experts on prospects of restoring the Aligidir Dam with a
capacity of holding about 4 million cubic meters of water after carrying out
of the necessary renovation activities.

http://www.shabait.com/articles-new/uploads/pia_gashbarka_06032009_02.jpg

The Aligidir water diversion scheme with a capacity of irrigating about
16,000 hectares has been damaged due to silt deposited for a long time and
old doors of distribution canals. At present, it is under renovation through
deploying a number of machineries, and over 170 million Nakfa has been
allocated for the task being undertaken through Bidho Construction Company,
and as a result of the task accomplished so far, it could irrigate over
4,000 hectares. The scheme is expected to irrigate 15,000 to 20,000
hectares, once the renovation process is finalized.

Various national construction companies, including Roddab, Gedem, ASBECO,
Homib and Badme, as well as government garage and the general public are
actively engaged in the undertaking, according to reports.

http://www.shabait.com/articles-new/uploads/pia_gashbarka_06032009_03.jpg

Also in the course of the visit to the 1,000- hectare site below Gerset Dam
in which the necessary infrastructure facilities are being put in place to
further develop it, the President was informed that 70% of the program has
been implemented as regards endeavors being made to cultivate the farmland
through introducing drip irrigation.

Moreover, President Isaias inspected the preparations being made to
construct a water tanker in the upland area with a capacity of holding about
10,000 cubic meters of water, and thereby irrigate extensive farmland. He
expressed words of encouragement to all those taking active participation in
the activities just outlined.

http://www.shabait.com/articles-new/uploads/pia_gashbarka_06032009_04.jpg

---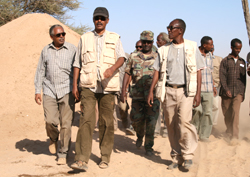 ---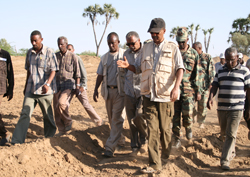 ---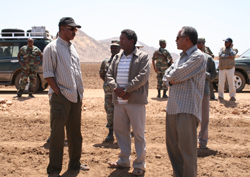 ---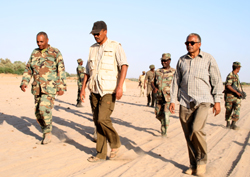 ---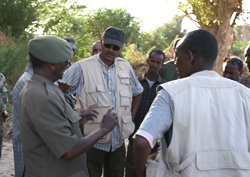 ----[This List to be used for Eritrea Related News Only]----

---
webmaster
© Copyright DEHAI-Eritrea OnLine, 1993-2009
All rights reserved