---
[dehai-news] unicef.org: Eritrea celebrates women teachers as role models for girl students
---
From: Berhane Habtemariam (Berhane.Habtemariam@gmx.de)
Date: Fri Mar 06 2009 - 07:36:18 EST
---
Eritrea celebrates women teachers as role models for girl students

By Miriam Mareso and Kutloano Leshomo

Each year on International Women's Day, 8 March, the world pauses to
celebrate women's achievements. In the run-up to 8 March, here is the story
of one effort to inspire girls with women teachers as role models.

ASMARA, Eritrea, 5 March 2009 - The Hotel Embasoira in Asmara recently
hosted an award ceremony for women teachers, organized by the Ministry of
Education and supported by UNICEF. The event, a first of its kind in
Eritrea, celebrated the work and long-term achievements of 12 educators.

On hand for the ceremony were UNICEF Deputy Representative in Eritrea Juan
Carlos Espinola Ayala, UNICEF Chief of Education Dr. Ikem Chiejine, the
Director General of Research and Human Resource Development in the Ministry
of Education, Petros Hailemariam, and other senior government officials.

The event was part of a government initiative to encourage women to take up
the teaching profession, increase the motivation of women teachers and
strengthen their work.

"The encouragement of women teachers is linked to women's liberation, and
this depends on the educational opportunities that the government provides
to women and girls," said Mr. Hailemariam.

Milestone in educational achievement

Mr. Ayala praised the commitment of the 12 women to their responsibility as
role models in their schools as well as their communities and families. He
congratulated the Ministry and all involved parties for identifying such
role models in a world where children are exposed to mixed messages from the
media - and where their values are often corrupted by negative influences.

"This is one of the milestones of the Ministry of Education ... whose work
is particularly appreciated by UNICEF as they have taken the lead in many
issues linked to educational achievement," he said.

Each of the 12 teachers, two from each of the country's six regions,
received a certificate of acknowledgement, a dictionary and a 4,000-nakfa
(US$270) cheque as a token of appreciation for their contribution to
educational advancement in Eritrea.

Inclusive selection process

The Ministry Developed criteria for selection of the teachers in
consultation with local school systems and UNICEF. The women were honoured
on the basis of their experience and exemplary contributions within the
school, the community and the family.

The criteria included the teachers' record of support for students who may
need extra attention to achieve academic results.

The selection process was designed to follow a bottom-up approach, with
students as well as peer teachers, school directors and regional education
administrators participating.

Overcoming the gender gap

Although women represent about 50 per cent of all teachers at the elementary
level, the ratio drops to less than 10 per cent at middle and secondary
schools.

On the other hand, unlike many other countries, Eritrea pays equivalent
salaries to female and male teachers.

However, teaching is still a male-dominated profession here. This gender gap
is generally due to lack of equal access to education for girls -
particularly in some of the regions - and complex socio-cultural barriers
that push girls to drop out before completing their education.

'I am very proud'

To provide long-term solutions to these problems, UNICEF is supporting the
Eritrean Government's work on equality in education, for both students and
teachers. In addition to the new awards for women teachers, other strategies
supported by UNICEF and implemented by the Ministry for achieving equality
in education include:

* Teacher training focused on professional development for women
teachers
* Community advocacy and mobilization for girls' education
* Incentives to support educational access and school retention girls
from disadvantaged communities
* Complementary education provided for over-age, out-of school
children, also with a focus on girls.

The recent awards were well received by the teachers. One honouree,
Tsehainesh Hagos Hailu from Medeber Elementary School, said the award will
motivate her to work even harder.

"This gives me an opportunity to do my best in the future," she said. "I am
very proud of myself, my country, my Ministry and the teachers'
association."

UNICEF Image

C UNICEF/2009/Leshomo

Women teachers in Asmara, Eritrea, display certificates from an award
ceremony organized by the Ministry of Education and supported by UNICEF.

UNICEF Image

C UNICEF/2009/Leshomo

Kadra Saleh Ali of Tish Elementary and Junior School in Debub receives her
certificate from UNICEF Deputy Representative in Eritrea Juan Carlos
Espinola Ayala. UNICEF Eritrea Chief of Education Dr. Ikem Chiejine looks
on.

---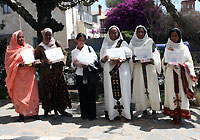 ---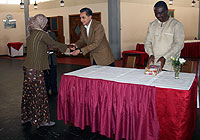 ----[This List to be used for Eritrea Related News Only]----

---
webmaster
© Copyright DEHAI-Eritrea OnLine, 1993-2009
All rights reserved