---
[dehai-news] Shabait.com: President Isaias holds talks with Sudanese government delegation
---
From: Berhane Habtemariam (Berhane.Habtemariam@gmx.de)
Date: Mon Mar 02 2009 - 13:00:41 EST
---
President Isaias holds talks with Sudanese government delegation
By Staff
Mar 2, 2009, 14:25

http://www.shabait.com/articles-new/uploads/pia_sudandel_02032009.jpg

Asmara, 2 March 2009 - President Isaias Afwerki today received and held
talks at the State Palace with a Sudanese government delegation headed by
Dr. Nafie Ali Nafie, Sudanese Presidential Assistant and Head of Political
and Organizational Affairs of the ruling National Congress Party.

President Isaias assured the delegation that as the move being taken by the
International Criminal Court (ICC) against President Omar Hassan Al-Beshir
not only targets the Sudanese leader and the Sudan itself but also the
entire countries of the region, Eritrea would not accept it and would stand
alongside the Sudanese people.

Dr. Nafie Ali Nafie on his part lauded the firm stance of President Isaias,
as well as the people and Government of Eritrea in rejecting the ICC issue
and the efforts they are exerting towards promoting a comprehensive peace
and justice in the Sudan. In this respect, he described such a stance as
"correct and courageous."

http://www.shabait.com/articles-new/uploads/eri_sudan_02032009.jpg

Stating that the interference of the International Criminal Court would only
aggravate the Sudanese issue in general and that of Darfur in particular
rather than bring about solution, Dr. Nafie underlined that the ICC issue
would undermine regional peace and prompt neo-colonialism in Africa.

Moreover, the two sides reached understanding on continuing the already
launched joint efforts aimed at promoting peace and stability in the Sudan.

Meanwhile, the first official meeting of the Joint Eritrean-Sudanese
Committee towards strengthening relations between the two countries has been
conducted at the Denden Hall here in Asmara.

http://www.shabait.com/articles-new/uploads/eri_sudan_02032009_01.jpg

In the meeting, an understanding was reached on the speedy launching of
development and economic cooperation between Eritrea and Sudan, besides
undertaking joint strategic programs. Discussion was also conducted on ways
of extending the necessary support so as to provide impetus to the positive
steps taken so far taking into consideration that enhanced bilateral ties
benefits both countries and the region as a whole.

The high-level Sudanese delegation headed by Dr. Nafie Ali Nafie returned
home in the afternoon hours today concluding a one-day working visit.

It is to be recalled that President Isaias received and held talks on
February 28 with SPLM delegation headed by Dr. Deng Alor, Sudanese Foreign
Minister and Member of the Movement's Executive Council.

---
---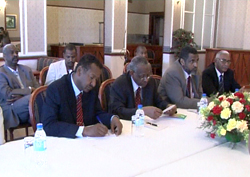 ---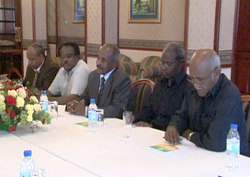 ----[This List to be used for Eritrea Related News Only]----

---
webmaster
© Copyright DEHAI-Eritrea OnLine, 1993-2009
All rights reserved