---
[dehai-news] Shabait.com: Two people killed and 8 injured in bomb explosion in Haikota semi-urban center
---
From: Berhane Habtemariam (Berhane.Habtemariam@gmx.de)
Date: Fri Feb 27 2009 - 11:57:11 EST
---
Two people killed and 8 injured in bomb explosion in Haikota semi-urban
center
By Staff
Feb 27, 2009, 14:31

http://www.shabait.com/articles-new/uploads/haikota_bomb_27022009.jpg

Haikota, 27 February 2009 - Two people were killed and 8 others seriously
injured when a bomb exploded at restaurant in Haikota semi-urban center on
February 25.

Those who sustained serious injury are currently receiving treatment at
Halibet Hospital here in Asmara after receiving first-aid treatment at the
Barentu Referral Hospital.

The Haikita police station is investigating the incident, according to
reports.

http://www.shabait.com/articles-new/uploads/haikota_bomb_27022009_01.jpg

---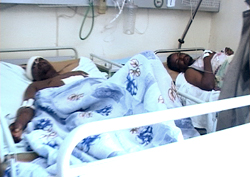 ---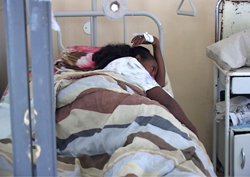 ----[This List to be used for Eritrea Related News Only]----

---
webmaster
© Copyright DEHAI-Eritrea OnLine, 1993-2009
All rights reserved