---
[dehai-news] (FNA) Iranian President Ahmadinejad Arrives in Djibouti
---
From: Biniam Haile \(SWE\) (eritrea.lave@comhem.se)
Date: Tue Feb 24 2009 - 11:26:32 EST
---
News number: 8712060412 14:49 | 2009-02-24


President Ahmadinejad Arrives in Djibouti

TEHRAN (FNA)- President Mahmoud Ahmadinejad arrived in Djibouti on
Tuesday heading a high-ranking delegation on an invitation by his
Djibouti counterpart Ismail Omar Guelle.

National anthems of Iran and Djibouti were played in the welcoming
ceremony, as the two presidents reviewed guard of honor.

The two sides are to hold talks Djibouti presidential palace afterwards.


Djibouti is the first leg of the president's three-nation tour of
Africa, which will also take him to Comoros and Kenya, the Islamic
republic news agency reported.

Talking to press at Tehran's Mehrabad Airport before leaving for
Djibouti, President Ahmadinejad had said, "We enjoy close political,
social and economic ties with the African countries and would meet the
president and high ranking officials of Kenya, Komor and Djibouti during
this tour."

Ahmadinejad said that holding meetings with African leaders, signing
various agreements and contracts and further expansion of political and
economic relations are among the priorities of the tour.

Iran's President was seen off at Mehrabad Airport by the International
Affairs Consultant of the Supreme Leader, Ali Akbar Velayati, Justice
Minister and Government Spokesman Gholam Hossein Elham, Health Minister
Bagher Lankarani and Housing and Rural Development Minister Saeidi Kia.

During the three-day tour Dr. Ahmadinejad would meanwhile have meetings
with religious leaders and visit and give lectures at some universities
and cultural centers.

http://english.farsnews.com/newstext.php?nn=8712060412

<http://media.farsnews.com/Media/8506/Images/jpg/A0224/A0224923.jpg>

---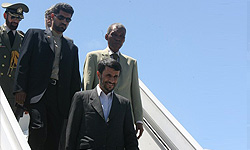 ----[This List to be used for Eritrea Related News Only]----

---
webmaster
© Copyright DEHAI-Eritrea OnLine, 1993-2009
All rights reserved