---
[dehai-news] YPFDJ-DC area Presents the Screening of "One Childhood"
---
From: michael seium (michael.seium@gmail.com)
Date: Sun Feb 22 2009 - 10:25:21 EST
---
YPFDJ Metro DC Presents the screening of "ONE CHILDHOOD" an award winning
documentary on Health and Education in Eritrea. PFDJ will also have it's
monthly dinner on the same evening. Panel discussions and then an evening of
entertainment follows.

Date: Saturday, February 28TH, 2008

What: Screening of "One Childhood" documentary on Health and education in
Eritrea.

Time: Between 4pm-6pm Screening and discussions
Break between 6pm-7pm
PFDJ Dinner & program between 7-until

Where: ECCC (Eritrean Cultural and Civic Center)
between 6Th & L streets N.W Washington DC
(A block away from the DC convention center)

Please be on time and be ready to participate in the panel discussions.

Thanks & awet n' hafash.

Websites: See attached documenta as well.

---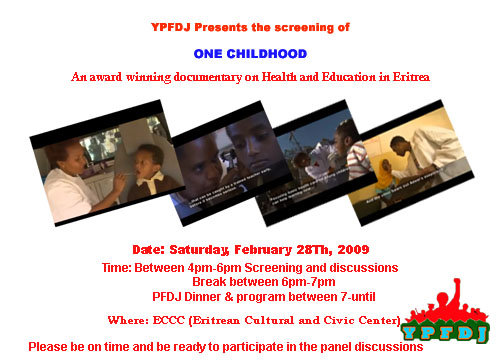 ----[This List to be used for Eritrea Related News Only]----

---
webmaster
© Copyright DEHAI-Eritrea OnLine, 1993-2009
All rights reserved