---
[dehai-news] Aljazeera.net: Sudan rivals sign Darfur pact
---
From: Berhane Habtemariam (Berhane.Habtemariam@gmx.de)
Date: Tue Feb 17 2009 - 06:37:48 EST
---
Sudan rivals sign Darfur pact

February 17, 2009

<http://english.aljazeera.net/news/africa/2009/02/2009214225757529885.html>
http://english.aljazeera.net/news/africa/2009/02/2009214225757529885.html

http://english.aljazeera.net/mritems/Images/2009/2/16/2009216204228555734_5.
jpg

Ibrahim wants Khartoum to disband militias in Darfur and give the rebels
political representation [AFP]

Representatives of Sudan's government and the Justice and Equality Movement
(Jem), the most influential rebel group in the country's western Darfur
region, have signed a joint declaration of good intentions.

Qatar, which has been hosting peace talks between Jem and the Khartoum
government for a week, announced the agreement on confidence-building
measures on Monday.

"There has been great progress ... and we now have an agreement," Sheikh
Hamad bin Jassem Al-Thani, the Qatari prime minister, said.

The sponsors of the meeting - Qatar, the United Nations, African Union and
Arab League - have said that the talks are preliminary and intended to pave
the way for a broader peace conference on Darfur.

Sheikh Hamad said in remarks to Al Jazeera: "We hope to start framework
talks in about two weeks about a ceasefire and details of the issue of
prisoners."

Ahmad bin Abdullah al-Mahmoud, a Qatari minister of state and one of the
mediators, said the agreement included measures to aid and protect refugees
in Darfur and a commitment by the two sides to continue negotiations in
Doha.

Other rebel factions are refusing to talk to Khartoum and say the peace
drive will fail without them.

Jem boycotted a largely abortive peace deal signed by one other faction in
2006. In May last year, it launched an unprecedented assault on the Sudanese
capital.

Prisoner swap

Amin Hassan Omar, a member of the Khartoum delegation, was quoted by QNA as
confirming that "in principle ... there is a commitment to release
prisoners and detainees for events linked to the Darfur conflict".

According to QNA, Tahar el-Fakih, a Jem delegation member, said: "The two
sides have committed themselves in principle to an exchange of prisoners, to
be freed in successive groups between now and the launch of talks on a
framework agreement on peace in Darfur."

Monday's developments followed a long meeting between the heads of the two
delegations, Khalil Ibrahim, the Jem chief, and Nafie Ali Nafie, an aide to
Omar al-Bashir, the Sudanese president.

Ibrahim had said at the start of the talks that broader peace negotiations
would only be possible if the government was prepared to accept the winding
up of allied Arab militias in Darfur and allow high-level rebel
representation in the central government.

He said confidence-building measures should include the expansion of aid
deliveries to rebel-held areas as well as the release of Jem prisoners.

Mohammed Vall, Al Jazeera's correspondent in Khartoum, said "it is not the
agreement that everybody was expecting" which would have included a deal
committing both sides to a cessation of hostilities.

"It is a declaration of intents and a mutual commitment that negotiation is
the right way and not war. [But] in a way it is a breakthrough that these
two sides are sitting and talking to one another," he said.

Millions dead

According to the UN, 300,000 people have died and more than 2.2 million
have fled their homes since rebels in Darfur rose up against the Khartoum
government in February 2003. Sudan puts the death toll at only 10,000.

Omar al-Bashir, the Sudanese president, is facing a possible international
arrest warrant for alleged war crimes including genocide in Darfur.

A senior Sudanese official earlier said that, in the long term, talks to end
the rebellion could be undermined by moves to charge al-Bashir.

International Criminal Court (ICC) judges are expected to rule within weeks
on whether to issue a warrant for al-Bashir's arrest.

'Jem emboldened'

Mohammed el-Mahadi Mandour el-Mahadi, head of the political affairs
secretariat for al-Bashir's National Congress Party, told the Reuters news
agency that the Jem had been emboldened to make increasingly unrealistic
demands during the talks.

The Jem's leader had also promised to hunt down al-Bashir if an arrest
warrant was issued, he said

"They have raised their ceilings of their demands. They are asking to be the
governors of Darfur, to be the governors of Kordofan [a neighbouring
region], to share power with the National Congress," el-Mahadi said.

---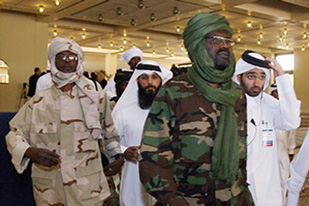 ----[This List to be used for Eritrea Related News Only]----

---
webmaster
© Copyright DEHAI-Eritrea OnLine, 1993-2009
All rights reserved