---
[dehai-news] (IRIN): DJIBOUTI: "We are not moving as fast as I would like"
---
From: Berhane Habtemariam (Berhane.Habtemariam@gmx.de)
Date: Mon Feb 16 2009 - 15:32:15 EST
---
DJIBOUTI: "We are not moving as fast as I would like"

http://www.irinnews.org/images/20062130.jpg
Photo: <http://www.irinnews.org/> Djibouti gov't
<http://www.irinnews.org/PhotoDetail.aspx?ImageId=20062130>
http://www.irinnews.org/images/design/magnify.gif

Djibouti President Ismail Omar Guelleh

DJIBOUTI, 16 February 2009 (IRIN) - President Ismail Omar Guelleh leads a
resource-poor country struggling with energy and food shortages. In an
interview with IRIN, he explained how these and other pressing issues are
being dealt with. Excerpts:

IRIN: What is your government doing to contain and mitigate the combined
effects of the high food prices and drought?

GUELLEH: We have begun to sign agreements with friendly countries, with more
opportunities in terms of agriculture, like Ethiopia and Sudan. We are going
to start a 3,000ha wheat farm in Ethiopia. In Sudan we have 7,000ha and the
first crop of sorghum and vegetables to produce oil has already arrived.

We have also signed an agreement with our Arab partners to develop
agriculture. They are building greenhouses to produce vegetables across the
country. They are also helping us in producing animal feed. We have large
programmes of water conservation and are building small dams. We are putting
a lot of effort into tackling the food security problem. We also have a
donor conference in Paris next month and we will present all these projects.

IRIN: This land [in Sudan and Ethiopia] is leased by Djibouti and will be
used to produce crops for Djibouti?

Yes, exactly.

IRIN: Have you had the support and aid you need from your partners?

Yes, we have had some support from Arab brothers who mitigated the burden of
high oil prices last year. It is very important for us because we could not
have survived without that help.

IRIN: There is a lot of economic activity, such as construction. Where is
Djibouti going?

We are not moving as fast as I would like. There are a lot of projects here
and a lot of people coming to invest, but I blame myself or my people for
the bureaucratic delays. I would like us to move much faster so that you see
much more development and growth three years later.

IRIN: Is economic growth reaching all the population and do they have the
necessary skills to take advantage of it?

We have started vocational training centres in almost all towns in the
country. We have sent many young people to train in India, Cuba, France,
Morocco and many other countries. Still we lack a skilled workforce, which
is why you see foreigners working here. I favour more skilled foreigners, so
our people can obtain and gain the necessary training and experience to
assume these jobs, but right now the percentage is low.

Eritrea

IRIN: What is the border situation with Eritrea?

We have our troops there and they [Eritrean troops] are occupying Djiboutian
territory. They are trying to drag us into conflict. But we have other ideas
- development, poverty alleviation and many other challenges - so we have
gone to the UN Security Council to resolve the issue. The Security Council
has issued a resolution giving Eritrea five weeks to leave our territory.
Two weeks have passed already and we are still trying to resolve things
through the UN.

IRIN: Is the border problem simply a quarrel between Eritrea and Djibouti,
which can be solved by the two sides? Have you tried to solve it
bilaterally?

We have tried through Qatar, with Iran and with all his [Eritrean President,
Isaias Afewerki] friends to resolve this. I don't know what he wants. He is
linking this problem with the Ethiopian border problem.

IRIN: How would you then describe relations, in general, with Eritrea?

Very bad. The leader there has problems not only with us but with all the
neighbours.

IRIN: Are you concerned that the situation, if not resolved properly, may
get out of control?

Yes, I am concerned but we shall avoid it and we will do everything to make
sure we are not obliged to go to war, because it is not in our interest.

Somalia

IRIN: You have just hosted another Somalia reconciliation conference where a
new president was elected. How optimistic are you that this time Somalia
will have an effective and functioning government able to deal with the
current crisis?

It is the third time we have hosted a conference and I hope that this time
the Somali people have reached a limit and that [the] population is ready to
accept peace.

I think this time compromise is possible, consensus is possible and
stabilisation of the country is possible. But all that will depend on
whether the security situation is resolved. This will require assistance,
support and solidarity from the friends of Somalia. So, to answer your
question, I am more hopeful and optimistic than I have been in the past.

IRIN: In your opinion what does the new president
<http://www.irinnews.org/Report.aspx?ReportId=82900> Sheikh Sharif Sheikh
Ahmed need to do to succeed?

First is security and forming an effective security force. He also must
continue with the reconciliation process to bring in everyone. He also must
tackle the problem of youth unemployment which is a big part of the problem.

IRIN: Do you think that neighbouring countries will give the new government
the space it needs to operate or will they interfere?

Somalia has three neighbours - Ethiopia, Kenya and Djibouti. We had an IGAD
[Inter-governmental Authority on Development] summit in Addis Ababa [in
early February]. The new president [of Somalia] had direct talks with
Ethiopian leaders. He also had direct talks with Kenyan authorities. He is
going directly from Mogadishu to Kenya. He is willing to launch a policy of
good neighbourliness and cooperation with his neighbours. That is a sign of
leadership which should be praised and supported. The neighbours said they
would support [him] and I have no reason to doubt [them].

IRIN: How serious do you think the international community is in finding a
lasting solution to the Somali crisis?

The positions of most of the international community, Europeans, Americans,
Arab league and Islamic conference, are that all are willing to see Somalia
on the international stage. They are ready to support it if the leadership
is serious and showing willingness and ability to manage the country's
problems. It is not just lip service; I am confident that financial support
will come.

ah/eo/am/mw

---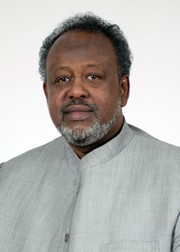 ---

----[This List to be used for Eritrea Related News Only]----

---
webmaster
© Copyright DEHAI-Eritrea OnLine, 1993-2009
All rights reserved