---
[dehai-news] Shabait.com: Commemorative events of 19th anniversary of Operation Fenkil underway
---
From: Berhane Habtemariam (Berhane.Habtemariam@gmx.de)
Date: Fri Feb 13 2009 - 17:04:00 EST
---
Commemorative events of 19th anniversary of Operation Fenkil underway
By Staff
Feb 13, 2009, 13:22

http://www.shabait.com/articles-new/uploads/fenkil_13022009.jpg

Massawa, 13 February 2009 - Commemorative events in connection with the 19th
anniversary of Operation Fenkil culminating in the liberation of Massawa
opened today in a colorful manner.

Various shows, including cultural and sports programs, pictorial and
artistic shows highlighting the major development programs being implemented
in the country through Operation Zones, national construction companies, the
Naval Force and ministries are being staged in the course of the
commemorative events that would continue up to February 15.

http://www.shabait.com/articles-new/uploads/fenkil_13022009_01.jpg

Mr. Hagos Gebrehiwet, Head of Economic Affairs at the PFDJ, opened the
presentation. Moreover, extensive briefings highlighting the historic Salina
and Fenkil operations and the heroic feats of the freedom fighters in the
offensives were also given by veteran fighters who took part in the
operations.

Reminiscences of the Salina and Fenkil operations were also expressed by
Yebio Araya and Yemane Fisehastion respectively in which they narrated the
heroic exploits of the gallant EPLF freedom fighters.

Also in a seminar he conducted on February 12, Col. Ahmed Mohammed Ali,
Operations Chief of Staff in the Eritrean Naval Force, pointed out that
Operation Fenkil was a historic offensive that dealt a crushing blow to the
enemy forces of occupation both on land and sea ultimately paving the way
for Eritrea's total liberation. In this respect, he indicated that the
then young Naval Force defeated the heavily armed enemy force thanks to its
unparalleled dedication and exemplary military strategy.

http://www.shabait.com/articles-new/uploads/fenkil_13022009_02.jpg

Col. Ahmed further noted the vital contribution of the Naval Force in
rebuffing reinforcement enemy troops coming from Assab and other areas. In
this connection, he called on the nation's youth to be properly acquainted
with the rich history and values of the armed struggle and the society as a
whole, and thereby honor the trust of martyrs.

Meanwhile, a number of people from different parts of the country are
flocking to Massawa to participate in the commemoration of the 19th
anniversary of Operation Fenkil. The official opening ceremony is scheduled
to take place in the afternoon hours tomorrow.

---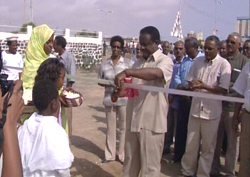 ---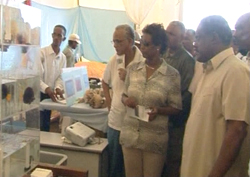 ---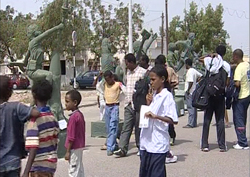 ----[This List to be used for Eritrea Related News Only]----

---
webmaster
© Copyright DEHAI-Eritrea OnLine, 1993-2009
All rights reserved