---
[dehai-news] (EF) ETHIOPIA: Obama's envoy discusses with Oppositions, Meles govt
---
From: Biniam Haile \(SWE\) (eritrea.lave@comhem.se)
Date: Mon Feb 02 2009 - 08:49:02 EST
---
ETHIOPIA: Obama's envoy discusses with Oppositions

Written on Monday, February 2nd, 2009 at 8:53 am by ethioforum

2 February 2009 (EMF) - Barack Obama's envoy, a career diplomat and
acting Assistant Secretary of State for African Affairs Philip Carter,
talked to main opposition leaders in Addis Ababa on Friday, source said.
Acting Assistant Secretary of State Spoke to Dr. Merera Gudina, Prof.
Beyene Petros, Dr. Hailu Araya, Dr. Negaso Gidada, Mr. Temesgen Zewde
and Mr. Seye Abraha over ever worsening political repression and
economic setback the country is facing. During the meeting, opposition
leaders, in one voce, informed Mr. Philip Carter the end of political
space for opposition. They expressed concern on continuous repressions
against dissents by the incumbent regime.

Oppositions asked the Obama administration to exert pressure on the
government of Meles Zenawi to release political prisoners, open the
political space and allow observers for the upcoming elections.

Mr. Philip told the opposition leaders that the new US administration is
seriously concern with the human rights situation in Ethiopia. The
Acting Assistant Secretary of State, Mr. Philip Carter has also met with
Meles Zenawi. The content of the discussion was not revealed.

The new US administration is desirous to change existing Bush foreign
policy towards the horn of Africa.

Obama's radical actions to change U.S. foreign policy has threatened
Ethiopia's dictator, Meles Zenawi, who exploited the "War on Terror" to
win support from the Bush administration, despite it's gross human
rights abuses documented by International Human Rights Groups.

http://ethioforum.org/wp/archives/799

<http://www.state.gov/cms_images/Amb_Phillip_Carter_1402.jpg>

---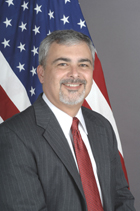 ----[This List to be used for Eritrea Related News Only]----

---
webmaster
© Copyright DEHAI-Eritrea OnLine, 1993-2009
All rights reserved