---
[dehai-news] Shabait.com: Dr. Woldai highlights major achievements registered in the nation-building process
---
From: Berhane Habtemariam (Berhane.Habtemariam@gmx.de)
Date: Thu Jan 29 2009 - 15:00:54 EST
---
Dr. Woldai highlights major achievements registered in the nation-building
process
By Staff
Jan 29, 2009, 13:31

Asmara, 29 January 2009 - The Minister of National Development, Dr. Woldai
Futur, outlined the major achievements registered in all domains since
independence aimed at ensuring social justice and embellishing the beauty of
the country. At the same time, he stated that much more remains to be
accomplished so as to fully realize the set goal.

http://www.shabait.com/articles-new/uploads/minwoldai_17052008_001.jpg

The Minister particularly noted the impressive achievements scored in
infrastructure development and expansion of social service thanks to the
adoption of a well defined national development strategy and long-term
programs. The implemented programs would be a stepping stone for still
greater achievement, Dr. Woldi elaborated. He further outlined the
encouraging tasks undertaken to achieve food security and ensure
macro-economy stability through introducing modern farming methods.

In this connection, the Minister pointed out that the construction of
hundreds of micro-dams and water reservoirs in different parts of the
country attests to this fact. He expressed conviction that Eritrea would not
only achieve food security but also export the same in the near future, as
it is endowed with fertile land and as a result of putting in place water
resource infrastructure.

As regards communications, Dr. Woldai indicated that fixed and wireless
telephone services have been introduced in many corners of the country,
while mobile phone service has have been expanded in those areas with no
fixed telephone lines. In this respect, he explained that all parts of the
country have now access to reliable telephone service and that vigorous
endeavors would be made to further expand such service.

Regarding transport infrastructure, the Minister indicated that more than
15,000 km-long asphalted and dirt roads have been constructed at a cost of
USD 800 million which are playing significant role in providing efficient
transport service to the public. He also cited the commendable tasks
accomplished as regards putting in place marine and air transport
infrastructure facilities.

Dr. Woldai went on to explain that about 130 villages have secured access to
electricity supply and that the rural electrification program would continue
in an enhanced manner. He also highlighted the major achievements registered
in the domains of fisheries, tourism, industry and social services that
would lay solid ground for further development.

---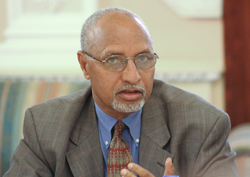 ----[This List to be used for Eritrea Related News Only]----

---
webmaster
© Copyright DEHAI-Eritrea OnLine, 1993-2009
All rights reserved