---
[dehai-news] Susan Rice has worldly stocks
---
From: Tsegai Emmanuel (emmanuelt40@gmail.com)
Date: Thu Jan 29 2009 - 03:26:38 EST
---
*Susan Rice has worldly stocks*
By: Chris Frates
January 28, 2009 08:40 PM EST

The U.S. ambassador to the United Nations, Susan Rice, has a stock portfolio
that's as worldly as her new job.

Her wide array of stocks includes Petro-Canada, Hong Kong Electric, Taiwan
Semiconductor and Toyota. On the home front, she has stakes in Dell, General
Electric, Coca-Cola, Wal-Mart and Boeing, according to a personal financial
disclosure filed with the Office of Government Ethics.

She earned more than $250,000 from the Brookings Institution, BNA Inc., the
MacArthur Foundation and the Obama-Biden transition team.

Deputy Secretary of State-designate James Steinberg pulled down at least
$325,000 as a dean of the Lyndon B. Johnson School of Public Affairs at the
University of Texas at Austin, according to his financial disclosure report.

Before being tapped as a top aide to Secretary of State Hillary Rodham
Clinton, Steinberg earned $70,000 consulting for the Glover Park Group, a
Washington lobbying and communications shop stacked with former Clintonites.

He also brought home more than $73,000 in honoraria and publishing fees. And
he disclosed that the university and the LBJ Foundation have agreed to pay
him a performance bonus before he becomes deputy secretary.

Jacob Lew, who is also in line to serve as a deputy secretary of state, is a
managing director at Citigroup who earned $1.1 million and has $250,001 to
$500,000 in unvested, restricted stock in the company, according to his
disclosure.

He's also invested in financially troubled Fannie Mae and General Motors and
holds from $15,001 to $50,000 worth of State of Israel bonds.

Clinton also filed a disclosure report, which detailed the $5.7 million in
speaking *fees* <http://www.politico.com/news/stories/0109/18075.htm> earned
by her husband, former President Bill Clinton.

(c) 2008 Capitol News Company, LLC

---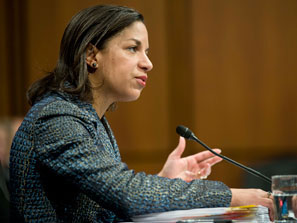 ----[This List to be used for Eritrea Related News Only]----

---
webmaster
© Copyright DEHAI-Eritrea OnLine, 1993-2009
All rights reserved