---
[dehai-news] PressTV: Somali government handing in weapons
---
From: Berhane Habtemariam (Berhane.Habtemariam@gmx.de)
Date: Tue Jan 27 2009 - 09:48:23 EST
---
Somali government handing in weapons
Tue, 27 Jan 2009 10:49:31 GMT

http://www.presstv.com/photo/20090127/esmaeeli20090127120559656.jpg

Al-Shabab fighters now control most of Somalia.

Somali government officials agree to handover weapons to al-Shabab fighters
after the opposition group captured the city of Baidoa.

Al-Shabab fighters captured Baidoa, the parliament seat and the last
stronghold of the fragile transitional government on Monday after heavy
fighting.

Witnesses say the fighters have seized parliament building and the
presidential palace.

The opposition fighters then released all lawmakers and ministers after they
agreed to hand over government weapons, Press TV's correspondent in Somalia
reports.

The officials will fly to neighboring Djibouti to join other lawmakers, who
are due to elect a new president.

An al-Shabab spokesman has called on Baidoa residents to inform members of
the group of the whereabouts of any armed Somali soldiers currently in
hiding.

"We take their guns and if they need, we will give them money. We do not
want to kill our Somali soldiers, they are our sons and we do not want to
hurt them," said Sheikh Mukhtar Rowbow Ali Abu Mansur.

The fall of Baidoa came shortly after the last Ethiopian troops pulled out
of the country after two years of battling insurgents. Al-Shabaab, an
offshoot of the Union of Islamic Courts (UIC), now controls most parts of
the country after taking control of major Somali towns and cities including
the capital of Mogadishu.

Somalia has not had a functioning government since the downfall of dictator
Said Barre in 1991.

---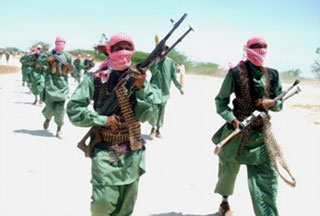 ----[This List to be used for Eritrea Related News Only]----

---
webmaster
© Copyright DEHAI-Eritrea OnLine, 1993-2009
All rights reserved