---
[dehai-news] (AP) Yemen under threat from world food crisis
---
From: Biniam Haile \(SWE\) (eritrea.lave@comhem.se)
Date: Wed Jan 21 2009 - 15:24:09 EST
---
Yemen under threat from world food crisis

By PAUL SCHEMM, Associated Press Writer January 20, 2009

SAN'A, Yemen - The ancient civilization that thrived in the mountain
valleys of Yemen was famed for cultivating bountiful crops with a system
of cisterns and aqueducts, but today the country is threatened with a
major food crisis that experts fear could destabilize the poor neighbor
of the Middle East's oil and banking giants.
In remote villages, families are regularly skipping meals and spending
over two-thirds of their income on food due to high international
prices, forcing some to pull children out of school because they cannot
afford it, according to a recent assessment by the World Food Program.


"All they've got in some villages is bread and tea and that's all
they're feeding their children," said Adam Taylor-Awni, a consultant
involved in the WFP study. And noting that a majority of Yemenis live in
remote rural villages, he added: "There aren't mechanisms in place to
get food to people."

Yemen has been faced with steadily decreasing supplies of water and a
burgeoning population, and international aid agencies warn the recent
rise in global food prices is bringing it close to starvation.
Economists and other authorities say the food crisis could further
unbalance the already precarious nation of 23 million and, worse yet,
spread violence and terror to its wealthy neighbors.

The country is known for its lawlessness and unruly tribal society. The
central government is weak, and well-armed tribes have regularly
kidnapped foreign tourists to blackmail authorities into providing cash
handouts and government projects. Experts warn that al-Qaida and other
terrorist groups are taking advantage of the worsening economy to
recruit more volunteers.

While the global rise in food prices has caused worries about Asia and
Africa, Yemen has been largely overlooked because it sits on the Arabian
Peninsula, a region noted for the oil wealth of Saudi Arabia and the
soaring high-rises and investment houses in Qatar and the United Arab
Emirates.

Yemen is an impoverished nation that imports nearly all its food. In
2006, the U.N.'s Food and Agricultural Organization described 37 percent
of the population as undernourished - receiving less than 2,200 calories
a day - putting it on par with troubled nations like North Korea and
Kenya.

According to the World Food Program, more than half of children under
age 5 have stunted growth due to lack of food and 12.5 percent
experience actual wasting, when the body starts consuming itself for
sustenance.

These statistics predate the latest food price rise, and the Rome-based
FAO warned last month that the global food crisis would persist well
into 2009, with prices expected to remain high and an additional 40
million people around the world pushed into hunger.

In Yemen, a 110-pound sack of wheat soared from 1,500 Yemeni riyals in
2007 to 7,000 riyals over the summer, before settling in November to
4,500 riyals - now worth about $22.50.


http://www.zwire.com/site/news.cfm?newsid=20244894
<http://www.zwire.com/site/news.cfm?newsid=20244894&BRD=1817&PAG=461&dep
t_id=222087&rfi=6> &BRD=1817&PAG=461&dept_id=222087&rfi=6


<http://www.agoravox.com/IMG/jpg/map-yemen.jpg>



---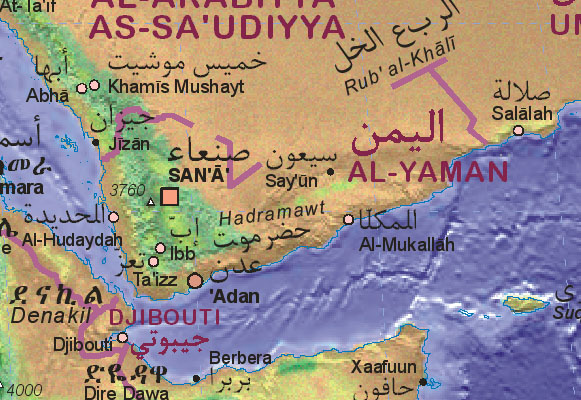 ----[This List to be used for Eritrea Related News Only]----

---
webmaster
© Copyright DEHAI-Eritrea OnLine, 1993-2009
All rights reserved