---
[dehai-news] (HC) Keflezighi, Boulet take titles in half marathon
---
From: Biniam Haile \(SWE\) (eritrea.lave@comhem.se)
Date: Sun Jan 18 2009 - 12:56:40 EST
---
Keflezighi, Boulet take titles in half marathon

By JENNY DIAL Copyright 2009 Houston Chronicle

Jan. 18, 2009, 11:01AM

Meb Keflezighi has been hoping that 2009 would treat him better than
2008. He got his wish on Sunday with a win in the Aramco Houston Half
Marathon with a personal best time of 1:01:25.

Last year, Keflezighi was battling a hip injury so bad that there were a
handful of days where he simply couldn't walk.

Now, he is holding a golden belt buckle and taking home a $12,000 purse.


"Last year was such a rough year," Keflezighi said. "I spent so much
time just trying to get healthy, trying to be able to walk every day, so
to be here today and be able to run is very special."

Not only did Keflezighi win, he dominated, finishing a full 10 seconds
in front of second-place Dathan Ritzenheim. Keflezighi pulled out in
front of the other runners between the second and third miles and stayed
there for the remainder of the race.

"I felt good today," he said.

Keflezighi has run in the Houston marathon three times. In 2007, he
finished third in the half marathon and two years ago, he was second
place in the full marathon.

"They say third time is a charm," he said. "I guess it was for this
race."

Keflezighi said this is his 15th or 16th U.S. National win, but that
this one is the most special.

"I wasn't sure how soon I could get back out and run after my injury, so
this is the sweetest win I have ever had," he said.

The women's winner, Magdalena Boulet, finished with her personal best
time too, 1:11:47. Boulet was represented the United States in Beijing
this summer, but has had some small injury problems since. She
considered her win on Sunday a big comeback.

"I have had some bumps in the road the last six months," she said. "So
it was great to get out there against several elite runners and get the
win today."

Boulet said that one of her favorite things about the half marathon on
Sunday was the crowds that lined the course.

"The crowds in Houston are great," she said. "They were loud and crazy
and really great. It is so nice to have people encouraging you the whole
way."

Overall, both winners said that Houston was the perfect place for
running their first race of the year.

"This is a great start to 2009," Boulet said.

http://www.chron.com/disp/story.mpl/sports/6217926.html


<http://i.a.cnn.net/si/2005/writers/brian_cazeneuve/09/02/keflezighi/p1_
keflezighi_0902.jpg>

---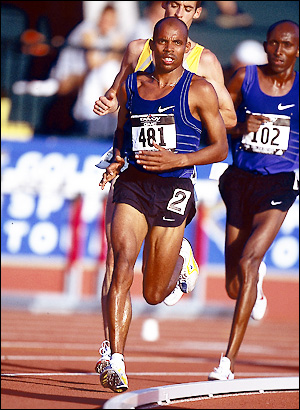 ----[This List to be used for Eritrea Related News Only]----

---
webmaster
© Copyright DEHAI-Eritrea OnLine, 1993-2009
All rights reserved