---
[dehai-news] VOA: Calm In Mogadishu Encourages AU To Upgrade Peace Mission
---
From: Berhane Habtemariam (Berhane.Habtemariam@gmx.de)
Date: Sun Jan 18 2009 - 06:16:28 EST
---
Calm In Mogadishu Encourages AU To Upgrade Peace Mission

By Peter Heinlein
Addis Ababa
17 January 2009

Somalis who fled Mogadishu, Somalia after Ethiopian forces arrived, return
to their houses in Mogadishu, Saturday, Jan. 17, 2009

Somalis who fled Mogadishu, Somalia after Ethiopian forces arrived, return
to their houses in Mogadishu, Saturday, Jan. 17, 2009

African Union officials, encouraged by the calm in Mogadishu in recent days,
are preparing to double the size of the A.U. peacekeeping mission in
Somalia. The departure of Ethiopian troops is creating new hope for
stability in a country seen as practically ungovernable for nearly two
decades.

Teams from the African Union, the United Nations and countries contributing
troops to the A.U. peacekeeping force AMISOM meeting Saturday were
cautiously optimistic about Somalia's chances of emerging from 18 years of
virtual anarchy.

A day after the U.N. Security Council expressed its intention to take over
peacekeeping duties in Somalia in the near future, A.U. officials spoke
confidently of assembling an eight-thousand strong force and having it ready
for U.N. command by June.

AMISOM is currently manned by about 3,500 soldiers from Burundi and Uganda.
Both countries say they will increase their troop commitments. Nigeria is
said to be offering one, and possibly three battalions, and AU Peace and
Security Commissioner Ramtane Lamamra told reporters at least three other
African countries are ready to pledge troops.

Lamamra says efforts to put additional peacekeepers on the ground received a
big boost from the newly-approved Security Council resolution, which offers
financial backing for the operation. "It is a good step forward. We will be
building on that, and we have technical delegation from the U.N. sitting
with us at this meeting. This technical mission is here as part of the
implementation of that resolution So we are very much eager to move quickly
to implement that resolution, meaning to get the comprehensive logistical
support from the UN as soon as possible,, and then to build on that support
and move quickly to establishment of a U.N. full-fledged peacekeeping
operation," he said.

Lamamra said Somalia's fragile transitional government also appears to be
gaining strength. Somali representatives at Saturday's meeting says a new
transitional president will be in place by January 26 to replace Abdullahi
Yusuf, who resigned last month.

A.U. and United Nations officials have also expressed annoyance at news
reports suggesting Islamist militants and other forces opposed to the
transitional government had taken over posts in Mogadishu vacated by
departing Ethiopian troops.

Commissioner Lamamra said those positions had been occupied by the moderate
opposition ARS, or Alliance for the Reliberation of Somalia, which has
signed an accord with the government. Lamamra admitted security remains
fragile, but dismissed suggestions that fighters from the militant al-Shabab
group were poised to fill a security vacuum in the Somali capital. "Most of
those are misleading. Al-Shabab have not taken any significant positions in
Mogadishu. Those are ARS affiliated paramilitary units which have taken some
of those positions together with the transitional government forces which
have taken other positions. So Shabab has no significant presence in those
areas," he said.

AMISOM force commander, Ugandan Major General Francis Okello said he was
encouraged that some of Mogadishu's estimated one million displaced people
were beginning to return. He credited Somalia's clan elders with creating an
environment where there is hope for peace. "The security situation in
Mogadishu is very calm. For three days running there have been no attacks so
far either on the TFG or AMISOM or the ARS forces, so the security situation
so far is good. And this is attributed to the efforts of the leaders of
society, clan elders and sub-clan elders, who have come out openly in
support of the peace process," he said.

General Okello also pointed to Friday's massive demonstration in Mogadishu's
main stadium, attended by more than 11,000 people calling for an end to
violence. Though many diplomats and analysts fear al-Shabab fighters might
try to stage a spectacular attack in the coming days, Okello said the
withdrawal of Ethiopian troops changed the atmosphere in the Somali capital,
and set the stage for more of the city's residents to return home.

---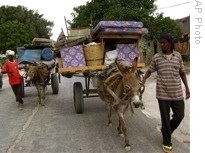 ----[This List to be used for Eritrea Related News Only]----

---
webmaster
© Copyright DEHAI-Eritrea OnLine, 1993-2009
All rights reserved