---
[dehai-news] VOA: Islamists Take Over Ethiopian Bases in Mogadishu
---
From: Berhane Habtemariam (Berhane.Habtemariam@gmx.de)
Date: Fri Jan 16 2009 - 15:04:40 EST
---
Islamists Take Over Ethiopian Bases in Mogadishu

By Alisha Ryu
Nairobi
16 January 2009

Islamist insurgents under training in camps vacated by the Ethiopian troops
in Mogadishu, Somalia, 15 Jan 2009

Islamist insurgents under training in camps vacated by the Ethiopian troops
in Mogadishu, Somalia, 15 Jan 2009

In Somalia, Islamist fighters loyal to the Islamic Courts Union have taken
control of several bases vacated by Ethiopian troops in the Somali capital.
Mogadishu remains tense amid fears that militant al-Shabab fighters could
launch attacks against moderate Islamists and African Union peacekeepers for
control of the city.

Residents in the capital, Mogadishu, say the Islamic Courts Union militia
have tightened security and are now in charge of most positions in the city.

The ICU took over six bases on Thursday, as Ethiopia pulled the last of its
forces out of the capital and ended its two year-long mission to protect the
country's weak transitional federal government. The ICU was thrown out of
power by Ethiopia in late 2006.

Government troops are reportedly in charge of two former Ethiopian bases in
the southern end of the capital and some 3,000 African Union peacekeepers
from Uganda and Burundi are guarding the presidential palace, the city's
airport and the seaport.

But Mogadishu remains far from settled, following threats by the
al-Qaida-linked militant group al-Shabab to continue their attacks on the
African Union mission known as AMISOM. Al-Shabab's spokesman Muktar Robow
says his group sees no difference between Ethiopian troops and AMISOM
peacekeepers.

Robow says al-Shabab fighters will now concentrate their attacks on
peacekeepers unless AMISOM agrees to leave Somalia immediately.

AMISOM spokesman, Ugandan army Major Barigye Ba-Hoku dismissed the threat,
saying al-Shabab is trying to spoil an opportunity for Somalis to end the
insurgency and achieve stability.

"Muktar Robow said that they are not interested in peace," he said. "They
are going to continue fighting. Whom are they going to fight? Because, all
along, the argument has been, 'We are fighting an occupation of force from
Ethiopia.' AMISOM is not in any way, and will never be in any way, an
occupation force."

It is not known if the ICU militia in Mogadishu includes members of
al-Shabab. The radical group, which has vowed to turn Somalia into a strict
Islamic state, functioned as the military wing of the ICU before it split
off in 2007. Al-Shabab and ICU fighters often fought side-by-side in the
past two years. But they have recently emerged as rivals.

With Ethiopians out of the capital, there have been indications that many
Islamist insurgents, clerics, and residents want an end to the conflict,
which has killed some 16,000 civilians and has left one-third of the
country's population in need of food aid.

Some clerics have publicly criticized al-Shabab's militant stance on AMISOM,
highlighting a widening rift between moderate and hard-line Islamists on the
way forward.

Many moderates are leaning toward supporting a Djibouti-based Islamist
opposition faction called the Alliance for the Re-liberation of Somalia. The
political alliance, led by former ICU leader Sheik Sharif Sheik Ahmed, was
initially criticized for signing a U.N.-sponsored peace accord with the
Ethiopia-backed government. Many Somalis did not believe Ethiopia would
follow through on its promise to withdraw and allow a joint force of
Islamist fighters and government troops to take over security.

But Al-Shabab and another hard-line Somali Islamist group, based in Asmara,
Eritrea, have refused to participate in the peace process, prompting fears
that a prolonged power struggle within the Islamist movement is yet to come.

US to Get Aggressive Against Somali Pirates

By Julia Ritchey
Pentagon
16 January 2009

The commander of U.S. and coalition naval forces in the Middle East says the
he will soon order a more aggressive approach to fighting piracy off the
coast of Somalia.

Vice Admiral William Gortney (undated photo)

Vice Admiral William Gortney (undated photo)

Vice Admiral William Gortney says he expects approval by next week of a plan
to hunt down and arrest suspected pirates, and deliver them to a country in
the region for detention and prosecution. The admiral would not name the
country, saying the State Department is in the final phase of negotiations.

"We are going to aggressively go after the pirates that are conducting
pirate activity," he said. "And it's going to be a mixture of surveillance
and then rapid action once we observe them, because we know we're going to
have to adhere to the rules of evidence."

Admiral Gortney says that under the new plan, his forces will arrest
suspected pirates - even if they are not in the act of attacking a ship.
Under current rules, sailors confiscate and dump overboard weapons found on
pirate ships, but let the offenders go because there is no system for
detaining them. Admiral Gortney says "pirate paraphernalia" includes AK-47
rifles, rocket-propelled grenades and ladders for climbing up onto large
ships.

He told a news conference on Thursday that the new rules of engagement will
make his operations to deter piracy more effective.

"We have to make it unpleasant to be a pirate," he said. "And that's when we
can capture them and try them and hold them accountable for their actions,
if they're found guilty, is the way we're going to go after that."

Admiral Gortney says pirates still control 11 ships off the Horn of Africa,
with 210 crew members held hostage. The admiral commands an anti-piracy task
force authorized by the United Nations Security Council, but currently there
are only U.S. ships in the force. He expects several other nations to join
the effort in the coming months.

Some countries, including Russia and China, have sent ships to the area to
help escort their merchant vessels through the dangerous waters.

Admiral Gortney says that although he does not command those ships, his
forces have good communications and coordination with the other navies.

But the admiral says that ultimately piracy has to be solved inside Somalia.

"The problem of piracy started ashore," he said. "And it's because there is
not a rule of law; there isn't a [system of] governance; there isn't
economic stability; there isn't a court system that will hold these
criminals responsible for their actions. And so the ultimate solution is
ashore proper."

Admiral Gortney welcomed efforts at the United Nations, including a meeting
on Wednesday, where representatives of 24 countries discussed ways to fight
piracy.

The admiral says there was a spike in pirate hijackings in August, but there
have been fewer successful attacks in recent months. He noted that only
about one-tenth of one percent of the tens-of-thousands of ships that pass
through the Gulf of Aden each year are seized by pirates.

---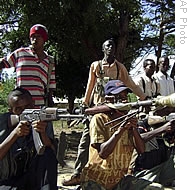 ---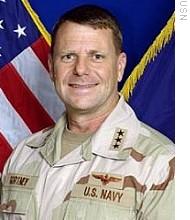 ----[This List to be used for Eritrea Related News Only]----

---
webmaster
© Copyright DEHAI-Eritrea OnLine, 1993-2009
All rights reserved