---
[dehai-news] VOA: Arrest of Opposition Leader Will Have Little Impact on Sudan Politics, Says Activist
---
From: Berhane Habtemariam (Berhane.Habtemariam@gmx.de)
Date: Thu Jan 15 2009 - 17:08:42 EST
---
Arrest of Opposition Leader Will Have Little Impact on Sudan Politics, Says
Activist

By James Butty
Washington, DC
15 January 2009

Relatives of an influential Sudanese opposition leader say he has been
arrested by security officials. Family and staff of Hassan al-Turabi say
police arrested him late Wednesday, two days after he called on Sudan's
president Omar al-Bashir to surrender to the International Criminal Court
(ICC).

Turabi Monday called on Mr. Bashir to turn himself over to the ICC to save
Sudan from the sanctions and political turmoil that would follow if he
continues to defy the court. The ICC is considering whether to issue an
arrest warrant for President Bashir over accusations that he orchestrated
genocide in Darfur.

Family members of Turabi say security forces also arrested Bashir Adam
Rahman, the secretary for international affairs for Turabi's Islamist
Popular Congress Party.

Omer Ismail, a Sudanese and policy advisor with the Enough Project, an
advocacy organization set up to highlight the crisis in Sudan's Darfur
region told VOA Turabi's arrest would have little or no effect on Sudan's
political dynamics.

"Yes, he is an intellectual who is influential in terms of his voice, but he
doesn't have any support among the people of Sudan that are going to make a
difference in terms of opposing the Bashir government. However the question
that is obvious here, how many opposition leaders have the same position as
Turabi? I would say they are many. If they all have the courage to come out
and criticize Bashir the same way and to demand that he is delivered to the
ICC, that is the thing that is going to have an impact," he said.

Ismail said there are other people that are more important in bringing about
change in Sudan than Turabi.

"If the people in Bashir's government, people Salah Abdallah Gosh (Sudan's
national security and intelligence service head), Ali Osman Taha (Sudan's
vice president), these are the people who are ruling Khartoum today. If they
decided to remove Bashir, that is going to be significant. There is a lot of
speculation in terms of the different scenarios if President Bashir were
indicted today, what is Sudan going to look like tomorrow? None of these
scenarios has Turabi as the main determinant of the future of the country,"
Ismail said.

Earlier this week, Sudan's security chief Salah Gosh warned that foreigners
could be attacked by what he called outlaws if the ICC prosecutes the
president. Ismail said the Gosh threat is real.

"The government of Sudan has been saying all along that if Bashir were
indicted, they are going to turn Sudan into an ungovernable state. Whether
they are going to do that or whether there are people inside the NCP
(National Congress Party) who are pragmatists and believe that if Bashir
became a burden they are to get rid of him, then they are going to take over
when the time comes," Ismail said.

He refuted speculation that the Khartoum government could be orchestrating
the latest threats to sabotage Sudan's upcoming elections. Instead Ismail
said the Bashir government wants to have the elections as long as it those
elections legitimize its hold on power.

Sudan VP Warns of Return to Civil War

By VOA News
15 January 2009

Sudan's First VP Salva Kiir, 05 Jan 2009

Sudan's First VP Salva Kiir, 05 Jan 2009

Sudan's first vice president said the country could slip back into civil war
if an international tribunal issues an arrest warrant for President Omar
al-Bashir.

Judges at the International Criminal Court [or ICC] are expected to decide
soon on the warrant, requested by prosecutors who accuse Mr. Bashir of war
crimes in Darfur.

Vice President Salva Kiir said that if a warrant is issued, Sudan's ruling
party will likely abandon the 2005 peace deal that ended the country's
north-south civil war, leading to a constitutional crisis.

Kiir represents the semi-autonomous south, which fought a destructive
21-year war with the northern-based government, and is scheduled to vote on
independence in 2011.

He became the latest of many Sudanese politicians to warn of negative
consequences if the ICC goes after Mr. Bashir.

In his comments, reported by Sudanese media outlets Thursday, Kiir said he
raised the issue of the warrant with U.S. officials during his recent visit
to Washington. He said he was told the U.S. has no influence on the case.

ICC prosecutors accuse the Sudanese president of orchestrating a genocide in
Darfur. Sudanese officials have denounced the court and refuse to cooperate
with its investigations.

On Wednesday, relatives of an influential Sudanese opposition leader said he
was arrested after calling for Mr. Bashir to surrender to the ICC.

Family and staff of Hassan al-Turabi said police took him into custody late
Wednesday.

Turabi said Monday that Mr. Bashir should turn himself in to the court to
save Sudan from the sanctions and political turmoil that would follow if he
continues to defy the court.

Sudan Government Resumes Bombing in Darfur

By Derek Kilner
Nairobi
15 January 2009

As Sudan awaits the International Criminal Court's decision on whether to
issue an arrest warrant for President Omar al-Bashir, the government has
resumed bombing attacks against rebel groups in the western region of
Darfur.

Omar al-Bashir (file photo)

Omar al-Bashir (file photo)

Last November, President Bashir announced a unilateral ceasefire in the
government's fight against rebel groups in Darfur. But a week ago, rebels
said the government had resumed bombing raids in the region.

Sudan's military confirmed Wednesday it had conducted air raids on rebels
from the Justice and Equality Movement around the town of Muhajiriya in
South Darfur.

The rebel group's Ireland-based head of Training and Strategic Planning,
Abdullahi El-Tom, said that the attacks are continuing

"Over the past weeks there have been sporadic attacks without following any
clear pattern. Because they seem to cover the whole of Darfur, parts of
north Darfur as well as south Darfur, and it is not confined to areas where
JEM forces are available," he said. "Today there have been some sort of
major engagements, they were attacked by forces from the government, aided
also by members of Mini Minnawi's forces and JEM splinters."

No deaths have been reported from the bombings.

Tensions are high in Khartoum as an announcement is expected soon from the
International Criminal Court in the Hague on whether it will agree to a
request by the court's chief prosecutor for an arrest warrant for President
Omar al-Bashir, on charges of war crimes, crimes against humanity, and
genocide committed in the Darfur conflict. El-Tom says this may be a cause
of the renewed bombing.

"It seems that the government wants to send a signal to the international
community that they can destabilize the whole area if the indictment of
Bashir is to go ahead, I cannot see an explanation other than that," said
El-Tom.

Late Wednesday, prominent opposition leader Hassan al-Turabi was arrested in
Khartoum. Turabi heads the opposition Popular Congress Party, and is a
former ally of the ruling National Congress Party who helped bring President
Bashir to power.

But Turabi has grown increasingly critical of the regime in recent years and
earlier this week called for President Bashir to surrender to the ICC.

With the exception of Turabi, the leaders of Sudan's main political parties
have, at least publicly, lined up in opposition to a warrant for President
Bashir.

Turabi was briefly detained last year when he was accused of collaborating
with an attack by the Justice and Equality Movement on Khartoum.

Also Wednesday, U.S. military aircraft began transporting equipment for the
U.N. peacekeeping mission in Darfur from Rwanda to Sudan.

According to the United Nations up to 300,000 people have been killed in the
Darfur conflict since 2003, and about 2.5 million displaced.

---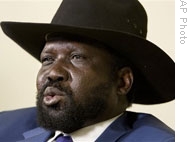 ---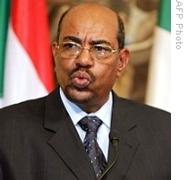 ---

----[This List to be used for Eritrea Related News Only]----

---
webmaster
© Copyright DEHAI-Eritrea OnLine, 1993-2009
All rights reserved