---
[dehai-news] un.org: UN council demands Eritrea engage in efforts to resolve dispute with Djibouti
---
From: Berhane Habtemariam (Berhane.Habtemariam@gmx.de)
Date: Wed Jan 14 2009 - 13:17:59 EST
---
UN council demands Eritrea engage in efforts to resolve dispute with
Djibouti

http://www.un.org/News/dh/photos/01-04-security-council.jpg

14 January 2009 - Urging Djibouti and Eritrea to peacefully resolve a border
dispute that flared into fighting in June 2008, killing at least 35 people
and leaving dozens wounded, the United Nations Security Council demanded
today that Eritrea pull its forces from the contested area and cooperate
with diplomatic initiatives.

Through a unanimously adopted resolution, the 15-member body welcomed
Djibouti's withdrawal to its positions before the dispute, which centres on
an un-demarcated border in an area known as Doumeira, and condemned
Eritrea's refusal to follow suit.

The armed conflict erupted last year after weeks of tensions and military
build-up on both sides, and a subsequent UN fact-finding mission, which was
welcomed by Djibouti and blocked by Eritrea, reported that the dispute had
the potential to destabilize the entire region.

In October 2008, Representatives of Djibouti and Eritrea outlined their
positions to a Council meeting that also heard statements from the Council's
15 members, in which they stressed the need for restraint and backed
existing international efforts to mediate a settlement.

In today's resolution, the Council said it deeply regretted that Eritrea
continuously refused to admit the fact-finding mission or any envoy of
Secretary-General Ban Ki-moon, who has offered his good offices to help
resolve the issue.

The Council encouraged the African Union and the Arab League to strengthen
their efforts to engage both parties in diplomacy, and asked Mr. Ban to
contact both organizations before reporting back on the matter within six
weeks.

---

---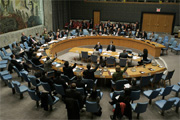 ---

----[This List to be used for Eritrea Related News Only]----

---
webmaster
© Copyright DEHAI-Eritrea OnLine, 1993-2009
All rights reserved