---
[dehai-news] (AFP): (AFP)'Sudan could get worse than Somalia': Turabi
---
From: Berhane Habtemariam (Berhane.Habtemariam@gmx.de)
Date: Tue Jan 13 2009 - 09:19:16 EST
---
'Sudan could get worse than Somalia': Turabi

Jan 13, 10:41 am ET


<http://news.yahoo.com/nphotos/Hassan-al-Turabi/photo/090112/photos_wl_afric
a_afp/0cb185c6a00716649ab8ec55c93043f6/s:/afp/20090112/wl_africa_afp/sudanco
nflictdarfurwarcrimes_newsmlmmd> 'Sudan could get worse than Somalia':
TurabiAFP/File - Sudanese Islamist opposition leader Hassan al-Turabi speaks
during a press conference in Khartoum, 2008. .

KHARTOUM (AFP) - Sudan's most iconic opposition leader who has inspired
Islamist movements across the world on Monday warned the country was at risk
of becoming worse than Somalia should central authority break down.

Hassan Turabi was speaking during an interview with reporters in Khartoum
that concentrated on the possible fallout if, as expected, the International
Criminal Court (ICC) issues an arrest warrant for President Omar al-Beshir.

When asked about a "worst case scenario" for Sudan, the frequently jailed
opposition leader evoked Somalia, which has been engulfed in civil war since
1991 and where no central government is strong enough to impose its
authority.

"This is worse than Somalia, if we lose any order of authority in the
constitution. We are not one people like the Somalis or one religion or one
language. We are a diversity of peoples," Turabi said.

Beshir rules over a fragile power-sharing government between former warring
parties north and south, which ended decades of devastating civil war in
2005 although regional conflict continues to blight the biggest country in
Africa.

Fighting in the country's western region of Darfur, where the ICC prosecutor
wants Beshir arrested on 10 counts of genocide, war crimes and crimes
against humanity, is poised to enter a seventh year.

Turabi, a brainchild behind the Islamist-inspired bloodless 1989 coup that
swept Beshir to power but now his bitter nemesis, said the president should
hand himself over to save the country from possible UN sanctions.

"Politically we think he is culpable... He should assume responsibility for
whatever is happening in Darfur, displacement, burning all the villages,
rapes, I mean systematic rapes, continuously, I mean on a wide scale and the
killing.

"Six million of the Sudanese are now paralysed, no agriculture, no animal
farming or rearing. He is responsible and we condemn him," said Turabi
referring to the estimated population of Darfur.

"He should go there and defend himself... We are against the system of
justice in Sudan... but politically he's guilty. No doubt about it.

Turabi speculated that "pressure from outside" on the government could
encourage resistance movements, alluding to but not naming Darfur's Justice
and Equality Movement that attacked the capital last May.

Turabi, one of the current regime's fiercest critics and regarded as a
driving force behind the introduction of Islamic Sharia law in Sudan that in
turn sparked rebellion in the south, was briefly detained after the JEM
attack.

"They (resistance movements) might then do something... They say the whole
country should be reorganised... that's why they attacked the capital."

"They may do something and then this will carry the others and then the
south, they are mostly for the court because they get all the assistance
from outside... They cannot go and stand up against international
institutions.

"That would disturb the Sudan very much. If we lose authority, or
disturbance of the existence of any authority, dictatorship or at all, then
Sudan will be in a worse mess than Somalia, unfortunately," he warned.

---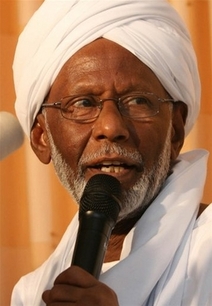 ----[This List to be used for Eritrea Related News Only]----

---
webmaster
© Copyright DEHAI-Eritrea OnLine, 1993-2009
All rights reserved