---
[dehai-news] (AF) Kuwaiti Co. Dampens Prospects for Ethiopia-Djibouti Railway
---
From: Biniam Haile \(SWE\) (eritrea.lave@comhem.se)
Date: Mon Jan 12 2009 - 18:02:54 EST
---
Kuwaiti Co. Dampens Prospects for Ethio-Djibouti Railway

Monday, January 12, 2009 11:53 pm

Al-Ghanim and Sons Group, a Kuwaiti company which was negotiating with
the transport ministers of Djibouti and Ethiopia to acquire the
management of the Ethio-djibouti Railway Entrprise through a concession
has lost the deal for failing to meet deadlines.

The governments of Ethiopia and Djibouti had committed themselves to
avoid looking for other options as long as the company was working on
schedule to take the management of the Enterprise. However, the company
has lost this privilege as it is not doing well within the schedule,
according to knowledgeable sources.

"If they had been on schedule, they would have retained the exclusive
right," Getachew Mengste, state minister for Transport and
Communications, told Fortune. The company does not seem to have the
interest, according to him.

"If they come again, we will accept them," Getachew said.

The fact that the project is not going as per schedule has not only been
a challenge to the governments of the two countries, but has also become
a source of trouble to the Enterprise.

Tuem Tekie, head of the Enterprise, took the initiative and organized a
meeting that was held from December 29-30, 2008 in Dire Dawa Town,
mid-point along the Ethio-Djibouti Railway line. The meeting was
attended by transport ministers of the two countries and other experts.

It was during this meeting that Tuem mentioned that the railway is not
functioning but managed to pay salaries, thereby depleting its
resources.

"There should be a company to administer the enterprise by concession,"
Tuem told Fortune.

Al- Ghanim should have submitted a feasibility study to the ministries
of the two nations and started taking over the administration by
December 31, 2008 at the latest. But, the negotiations have not
proceeded well and the deadline was not met.

Realizing that the Kuwaiti company is no longer interested, the
transport ministers of the countries said, at the Dire Dawa meeting,
they would openly look for potential investors to take over the railway
concession deal, sources who attended the meeting told Fortune.

Al-Ghanim is not the first company that had been interested to take
over the management of the railway enterprise and failed. A South
African company, Comozor, had earlier won a tender floated for the
management concession of the enterprise.

Comozor negotiated for one year, and while it was expected to sign the
final agreement for concession in June 2007, the company declined the
offer.

Thus, a delegation led by Junedin Sado, then minister of Transport and
Communications, along with its Djiboutian counterpart negotiated with
the Al-Ghanim and Sons Group. The latter expressed interest.

Nevertheless, neither Junedin nor his successor, Driba Kuma, is likely
see the good result they have been looking for from the enterprise,
perhaps for years to come. At the Dire Dawa meeting, Diriba said he
would continue to seek for other potential investors.


By WUDINEH ZENEBE
SPECIAL TO FORTUNE


http://addisfortune.com/Kuwaiti%20Co.%20Dampens%20Prospects%20for%20Ethi
o-Djibouti%20Railway.htm


<http://nazret.com/blog/media/blogs/new/ethiopia_train.jpg>


---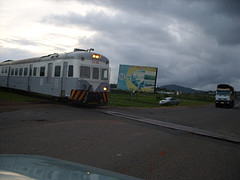 ----[This List to be used for Eritrea Related News Only]----

---
webmaster
© Copyright DEHAI-Eritrea OnLine, 1993-2009
All rights reserved