---
[dehai-news] PressTV': Somali tribal clashes leave 41 dead
---
From: Berhane Habtemariam (Berhane.Habtemariam@gmx.de)
Date: Sun Jan 11 2009 - 08:03:21 EST
---
Somali tribal clashes leave 41 dead
Sun, 11 Jan 2009 10:40:40 GMT


At least 41 people have been killed in heavy tribal clashes between al-Shabaab and Ahl-ul-Sunna wal-Jamaa fighters in central Somalia.

Hundreds of al-Shabaab fighters attacked Ahl-ul-Sunna strongholds in the town of Guriel on Sunday with the two sides exchanging heavy mortars, Press TV's correspondent in Somalia has revealed.

The fighting broke out two weeks after Ahl-ul-Sunna wal-Jamaa reclaimed Guriel, 300 kilometers northeast of the capital Mogadishu by forcing the al-Shabaab fighters out.

Some sources attribute the al-Shabaab withdrawal to reports of Ethiopian armed movements in Guriel. The prospects caused many locals to desert the town.

Sunday's fighting has left 41 people dead from both sides. No civilians were killed as locals had deserted the town following clashes in December.

However, many houses have been destroyed as a result of mortar attacks from both sides.

Ethiopian troops were deployed in Somalia in 2006 to help defeat the Union of Islamic Courts (UIC) and its military wing al-Shabaab -- which ruled much of south and central Somalia.

Addis Ababa had pledged to withdraw its forces from Somalia by the end of 2008.

Ethiopian troops, however, have been capturing towns in western Somalia from insurgents in the past few weeks.

Sea swallows Somali pirates, $3M ransom
Sat, 10 Jan 2009 19:27:12 GMT


The $3 million ransom was dropped by parachute onto the deck of the Sirius Star
Five of the Somali pirates who hijacked a Saudi supertanker have drowned after they received a $3 million bundle of cash as ransom.

Pirate Daud Nure, who was not part of the pirate operation but knew those involved, said the boat with eight people on board was capsized in a storm.

Nure said five of the pirates onboard died while three others reached shore after several hours of swimming.

The incident occurred after pirates received a reported $3 million to release the Sirius Star and its 25 crewmembers on Friday, following a two-month standoff in the Gulf of Aden.

Jamal Abdulle, a resident of the Somali coastal town of Haradhere, close to where the ship was anchored confirmed that the ransom money had been lost at sea.

Abukar Haji, uncle of one of the dead pirates, blamed naval surveillance for the accident which resulted in the death of his pirate nephew on Saturday.

"The boat the pirates were traveling in capsized because it was running at high speed because the pirates were afraid of an attack from the warships patrolling around," he said.

The naval coalition formed by the US, Denmark, Russia, Italy and other countries has been closely monitoring the pirate-infested waters of the Gulf of Aden, which links the Indian Ocean with the Suez Canal and the Mediterranean Sea.

More than 100 attacks by heavily-armed Somali raiders in speedboats last year have prompted the US Navy to make arrangements for a new anti-piracy taskforce in the region.

---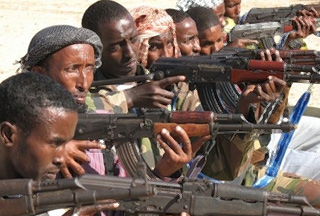 ---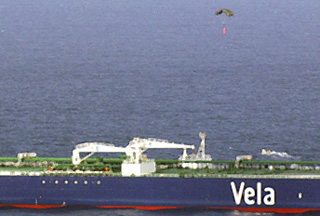 ----[This List to be used for Eritrea Related News Only]----

---
webmaster
© Copyright DEHAI-Eritrea OnLine, 1993-2009
All rights reserved