---
[dehai-news] PressTV: Ethiopia not evacuating Somalia
---
From: Berhane Habtemariam (Berhane.Habtemariam@gmx.de)
Date: Fri Jan 09 2009 - 07:50:54 EST
---
Ethiopia not evacuating Somalia
Thu, 08 Jan 2009 23:34:11 GMT

http://www.presstv.ir/photo/20090109/tarapour20090109024947765.jpg

Ethiopian soldiers stand guard outside their base in Mogadishu January 8

The Hawiye clan chairman accuses Ethiopia of not fulfilling its promise to
pull out its troops from Somalia and says they are still fueling fighting.

Addressing the international community, Mohamed Hassan Haad, chairman of the
Council of Hawiye Clan Elders and his speaker Ahmed Dirie Ali said on
Thursday that the Ethiopian troops had promised to pull out its troops by
Wednesday. On the contrary they have recaptured Dinsor town south of Baidoa
from al-Shabaab fighters on Wednesday afternoon, Press TV correspondent said
on Thursday.

He added that the new heavy fighting is displacing hundreds of civilians in
south Somalia and Galgaduud regions.

Haad said that Ethiopia continues with its genocide and has defied its
pledge to vacate by January 5, 2009, which casts doubt about its troop
withdrawal from Somalia.

"We condemn the presence of Ethiopian troops in Somalia and we call for the
Ethiopian government to withdraw its troops from Somalia," Haad said.

Addressing the United Nations, Arab League and all peace loving countries,
Haad said that Ethiopians are not going to leave Somalia. They want to
remain and continue with their atrocities, kill women and children of
Somalia, our correspondent said.

Ethiopian troops have been capturing towns in western Somalia from the
insurgents for the past two weeks.

Ethiopia invaded Somalia in 2006 to help defeat the Islamic Courts Union
forces that ruled much of south and central Somalia.

---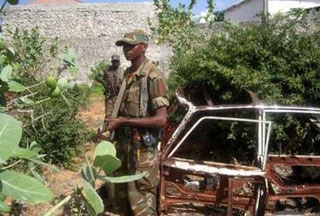 ----[This List to be used for Eritrea Related News Only]----

---
webmaster
© Copyright DEHAI-Eritrea OnLine, 1993-2009
All rights reserved