---
[dehai-news] PressTV: Al-Shabab recaptures Somali town
---
From: Berhane Habtemariam (Berhane.Habtemariam@gmx.de)
Date: Thu Jan 08 2009 - 18:03:59 EST
---
Al-Shabab recaptures Somali town
Thu, 08 Jan 2009 02:47:45 GMT

http://www.presstv.ir/photo/20090108/shafabakhsh20090108060013078.jpg

Fighters from al-Shabab have won control of several Somali towns and cities

Somali al-Shabab fighters have defeated Ethiopian troops and recaptured the
town of Dinsor in the Bay region.

On Tuesday, Ethiopian troops attacked and forced al-Shabab fighters who
controlled the strategic Somali town of Dinsor, 30 km south of Baidoa out of
the city.

Witnesses told Press TV correspondent in the region that fierce fighting had
erupted when Al-Shabab fighters attacked Ethiopian soldiers, driving them
out of the town after two hours.

The Ethiopian troops withdrew to Baidoa.

Meanwhile, Kenya said on Wednesday that it had no plan to deploy
peacekeeping troops to neighboring Somalia.

Kenyan Foreign Affairs Minister, Moses Wetangula, said his country will
instead help the war-ravaged country in training its forces.

"We will not deploy any troops to Somalia but we are willing to contribute
in building Somalia. Kenya will continue training Somali customs officials,
immigration officers, army personnel and border guards to help them
safeguard their nation," Wetangula said after meeting Somali's acting
President and Somali Parliament Speaker, Sheikh Adan Mohammed Nur Modobe, in
the Kenyan capital of Nairobi.

The Somali acting President is in Kenya to pave the ways for "a fair and
free Presidential elections".

---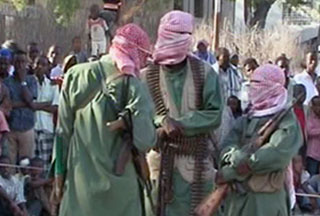 ----[This List to be used for Eritrea Related News Only]----

---
webmaster
© Copyright DEHAI-Eritrea OnLine, 1993-2009
All rights reserved