---
[dehai-news] January 4th, 2009 Interview with his Excellency President Issias Afwerki.
---
From: michael seium (michael.seium@gmail.com)
Date: Fri Jan 02 2009 - 18:38:22 EST
---
Ladies and Gentlemen:

Tune in to ERI-TV and Dimitsi Hafash on Sunday January 5th, 2009 to see an
interview with his Excellency President Issias Afwerki on a range of issues.

When: Sunday, January 5th, 2008.

What: ERI-TV interview on a range of issues local (Eritrean) and
International.

Where: Asmara, Eritrea

Time: 8pm Local Eritrea time/ 1pm East Coast time/12 (Noon) Central
time/10pm Pacific time.

The Interview will be aired Live on ERI-TV and also will be carried live on
Dimitsi Hafash. It can be also view via Hager Sat (Internet Television) as
well as by clicking on

http://www.Alenalki.com>


Tune in and listen to all the current issues affecting the Eritrean nation
and the geopolitics of our region as well as what lies ahead for the year
2009 for Eritrea.


Awet N'Hafash


Zelalemawi Zikri Swtana.

---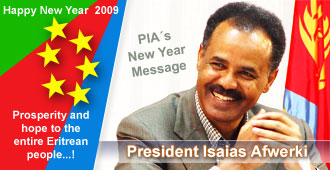 ---
----[This List to be used for Eritrea Related News Only]----

---
webmaster
© Copyright DEHAI-Eritrea OnLine, 1993-2009
All rights reserved