---
[dehai-news] (UNESCO) QUALITY EDUCATION: IFAP Success Stories: Eritrea (Video)
---
From: Biniam Haile \(SWE\) (eritrea.lave@comhem.se)
Date: Mon Apr 20 2009 - 21:32:40 EDT
---
Tuesday, April 21, 2009

IFAP Success Stories

Video
http://www.unesco-ci.org/cgi-bin/ifapstories/page.cgi?g=Detailed%2F56.ht
ml;d=1

Priority area(s): Quality education |
Country: Eritrea

<http://www.unesco-ci.org/ifapstories/files/5/85-First_employee_FAIR_Eri
trea1.jpg>
Posted: Tue Apr 01 2008

Technology and knowledge transfer between the north and south

FAIR (See link 1) signed the agreement with the Ministry of Education in
Eritrea in 2004, initiating this large-scale project of technology and
knowledge transfer between Eritrea and Norway.

In an ICT-transfer project like this, the distance between succsess and
failure is short if failing to provide sufficient training to the
recipients. This project has proven the effectiveness of a unique method
of transferring knowledge in paralell with technology.

The first year of training a technician from FAIR in Norway lived in
Eritrea. FAIRs technician installed the first 470 computers in the first
12 schools together with the 3 Eritrean locals FAIR had recruited for
the project.

The training of these focused on system administration, like client-,
thin-client- and server- installation, user administration, driver
management and network-cabling, as well as basic user applications and
the 20 educational applications including dyslectic training software
that was installed in each school.

In addition the local employees acted as assistants to the norwegian
technician in the basic and educational computer training courses, that
more than 100 teachers received the first year.

FAIRs 3 Eritrean employees then performed the rest of the installation
the next 3 years to a total of 1870 PC-s in 60 schools without physical
assistance form Norway.

They trained 500 more teachers in basic and educational computing and
more than 60 in system administration. The norwegian technician was in
Eritrea only 1-2 months each of these years. The result was that ICT has
begun to be used in the classroom and has provided direct access to new
information for close to 50,000 pupils in Eritrea. This project alone
has met the need for computer access in all the public lower and upper
secondary schools in the region of Massawa, as well as a large number of
schools in the country's other regions.

Through the University of Asmara and the advisory services provided by
FAIR, Eritrea has drawn up its own national operating system based on
GNU/Linux, with full support for Tigrigna. In official studies, the
project was quickly recognized as an important contributor to the
development of ICT in Eritrea.

By basic ecucational theory, <learning by doing>, this project has given
Eritrean schools a possibility to be and educate players in the digital
world. Several receiving schools have provided <Internet-cafes> for
their community and several Eritreans trained by FAIR has started
Internet-cafes or received new jobs within ICT in their communities.

The information and communication they now access have already changed
their lives. It becomes harder for a supressive regime to monopolize
information. It becomes cheaper to communicate and easier to organize
networks of people, like discussion-groups. When young women get
information about human rights they improve their possibilities to
strengthen their position in society.

At the same time young men must learn about human rights and women, and
their own roles and obligations. One method was the initiating of two
youth ICT teacher exchange programs between Eritrea and Norway in 2007,
supported by the norwegian peace corps.

Further, in this project gender considerations has been taken especially
in 3 areas: 1) Equal or better access to the resources for women 2)
Preference on women system administrators and ICT-teachers. 3) Free
basic computing courses for local women.

As this was FAIRs first large-scale project FAIR developed the Fair
Computer Recycling Suite (FCRS) to pre-test each computer. FCRS was
supported financially by UNESCO (Information Society Division, Paris)
and is available as free software (See link 2).

Less than 15% of the computers broke down the first 3 years, and these
are stored in take-back containers on two locations in Eritrea, for
return to and recycling in Norway. The project was financed by a
combination of environmental fees, the WSAN-awarded partner-program
FairRecycling (See link 3) and NORAD.


http://www.unesco-ci.org/cgi-bin/ifapstories/page.cgi?g=Detailed%2F56.ht
ml;d=1



<http://www.unesco-ci.org/ifapstories/files/5/85-First_employee_FAIR_Eri
trea1.jpg> First_employee_FAIR_Eritrea1.jpg


<http://www.unesco-ci.org/ifapstories/files/3/83-Semhar_-Secondary1.jpg>
Semhar_-Secondary1.jpg

<http://www.unesco-ci.org/ifapstories/files/2/82-Training_Massawa1.jpg>
Training_Massawa1.jpg


---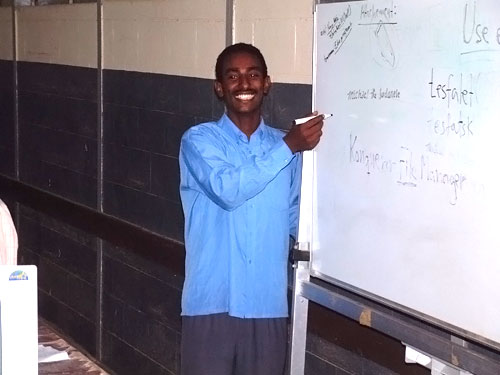 ---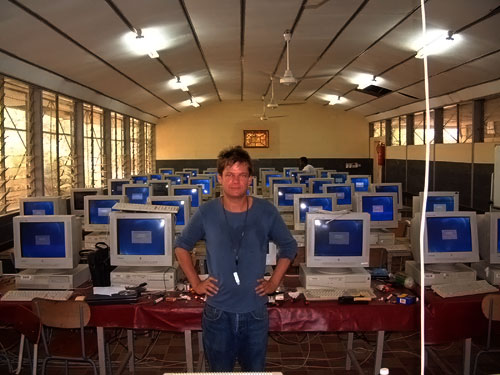 ---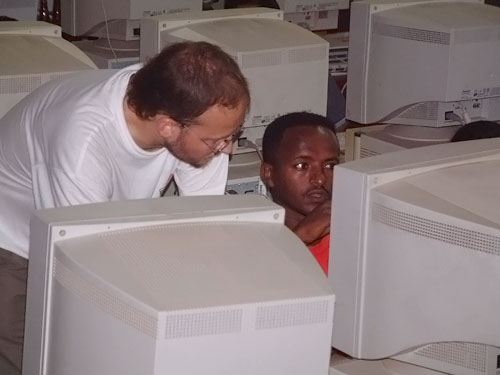 ----[This List to be used for Eritrea Related News Only]----

---
webmaster
© Copyright DEHAI-Eritrea OnLine, 1993-2009
All rights reserved