---
[dehai-news] Shabait.com: Easter Holiday colorfully celebrated across nation
---
From: Berhane Habtemariam (Berhane.Habtemariam@gmx.de)
Date: Sun Apr 19 2009 - 14:37:57 EDT
---
Easter Holiday colorfully celebrated across nation
By Staff
Apr 19, 2009, 17:27

http://www.shabait.com/articles-new/uploads/fasika_19042009.jpg

Tessenei, 19 April 2009 - Easter Holiday was today celebrated across the
nation in a colorful manner. In celebrations conducted in Tessenei town at
the national level organized jointly by the Ministry of Information and the
Tessenei sub-zone administration which was also transmitted live through
ERI-TV and Dimtsi Hafash, the Administrator of Gash-Barka region, Mr. Kahsai
Gebrehiwet, wished Happy Easter to Eritrean nationals at home and abroad, as
well as members of the Defense Force. He expressed appreciation to the
Information Ministry and other parties that made due contribution for the
success of the event.

Noting that the existing harmony and discipline among the Islamic and
Christian faiths in the country have positive impact in the noble values of
the society, Mr. Kahsai underscored that such foundation and major religions
are endowed with noble culture that could no be subject to tools of external
forces.

http://www.shabait.com/articles-new/uploads/fasika_19042009_01.jpg

The Administrator further indicated that the nation is heading to prosperity
through eventually achieving food security and that the coordinated
endeavors being exerted in Aligidir and Ruba-Gash project on the part of EDF
members, national construction companies and government garages would indeed
provide added impetus to the drive.

Likewise, the Administrator of the sub-zone, Mr. Tekleberhan, stated that
the Government is making substantial investment in the sub-zone and that
Tessenei town is registering impressive socio-economic development.

Also in a speech he delivered on behalf of the holiday's coordinating
committee, Mr. Idris Siraj, commended the local inhabitants and institutions
in the sub-zone, as well as members of the Information Ministry and artists
that played major role in organizing the celebrations.

The Red Flowers Cultural troupe in Tessenei and that of Salina Cultural
Troupe from Asmara staged musical performances, thus adding color to the
event.

---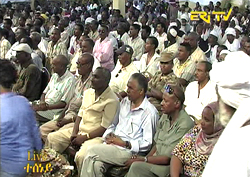 ---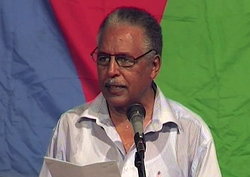 ----[This List to be used for Eritrea Related News Only]----

---
webmaster
© Copyright DEHAI-Eritrea OnLine, 1993-2009
All rights reserved