From: Dimtzi Eritrawian Kab German <eritreanvoice.germany_at_googlemail.com_at_dehai.org>
Date: Thu, 23 Apr 2015 00:13:32 +0200
[image: Inline-Bild 1]
The Millennium Development Goals Eight Goals for 2015
1. 1 Eradicate extreme hunger and poverty
<
http://www.er.undp.org/content/eritrea/en/home/mdgoverview/overview/mdg1
>
http://www.er.undp.org/content/eritrea/en/home/mdgoverview/overview/mdg1/
1. 2 Achieve universal primary education
<
http://www.er.undp.org/content/eritrea/en/home/mdgoverview/overview/mdg2
>
http://www.er.undp.org/content/eritrea/en/home/mdgoverview/overview/mdg2/
1. 3 Promote gender equality and empower women
<
http://www.er.undp.org/content/eritrea/en/home/mdgoverview/overview/mdg3
>
http://www.er.undp.org/content/eritrea/en/home/mdgoverview/overview/mdg3/
1. 4 Reduce child mortality
<
http://www.er.undp.org/content/eritrea/en/home/mdgoverview/overview/mdg4
>
http://www.er.undp.org/content/eritrea/en/home/mdgoverview/overview/mdg4/
1. 5 Improve maternal health
<
http://www.er.undp.org/content/eritrea/en/home/mdgoverview/overview/mdg5
>
http://www.er.undp.org/content/eritrea/en/home/mdgoverview/overview/mdg5/
1. 6 Combat HIV/AIDS, malaria and other diseases
<
http://www.er.undp.org/content/eritrea/en/home/mdgoverview/overview/mdg6
>
http://www.er.undp.org/content/eritrea/en/home/mdgoverview/overview/mdg6/
1. 7 Ensure environmental sustainability
<
http://www.er.undp.org/content/eritrea/en/home/mdgoverview/overview/mdg7
>
http://www.er.undp.org/content/eritrea/en/home/mdgoverview/overview/mdg7/
1. 8 Develop a global partnership for development
<
http://www.er.undp.org/content/eritrea/en/home/mdgoverview/overview/mdg8
>
http://www.er.undp.org/content/eritrea/en/home/mdgoverview/overview/mdg8/
Overview
<
http://www.er.undp.org/content/eritrea/en/home/mdgoverview/
#>
Eritrean women water tree seedlings. UNDP works with local communities on
agricultural and food security challenges as it seeks to help Eritrea meet
MDG 7 targets. (Photo: UNDP Eritrea)
As one of the UN specialized agencies focusing on Development, UNDP has a
mandate of supporting countries in their development path, and to
coordinate the UN System at the country level. In this endeavour, UNDP has
been partnering with the Eritrean Government since 1992 supporting and
coordinating various rehabilitation, reconstruction and development
interventions in capacity development, institution building, governance,
pro-poor economic growth and sustainable livelihoods, gender equality and
women empowerment, health, safe water supply and sanitation, as well as
food security and environmental sustainability.
UNDP support in health, safe water supply, food security and sustainable
livelihoods and environment has contributed to improvements in access to
safe drinking water, access to water for agriculture, relatively good
health outcomes, and although data are still lacking, Eritrea is on track
towards the achievement of MDG 7 for environmental sustainability.
The Government of Eritrea has initiated the process of preparing the Second
MDG Report; the first having been finalized in 2005. The implementation of
this exercise will generate more up-to-date data on the MDGs, thereby
providing a platform for assessment of progress of MDGs in Eritrea based on
a more current data. The UNDP Country Office Eritrea is prepared to
facilitate the exercise.
http://www.er.undp.org/content/eritrea/en/home/mdgoverview/
Ruby Sandhu-Rojon joins UNDP Africa as Regional Deputy
17 Mar 2014
http://www.er.undp.org/content/eritrea/en/home/presscenter/pressreleases/2014/03/17/ruby-sandhu-rojon-joins-undp-africa-as-regional-deputy.html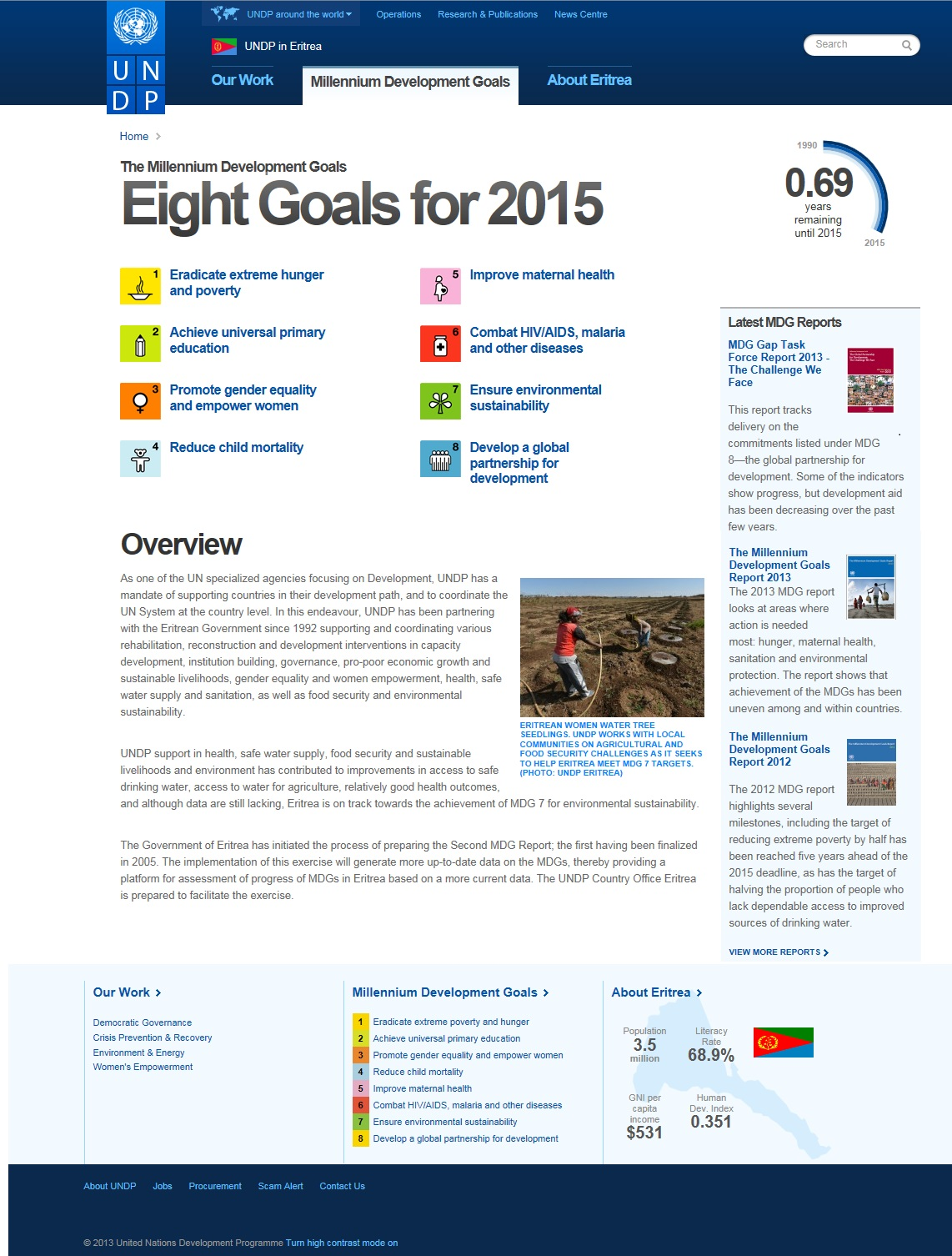 (image/png attachment: image.png)

(image/jpeg attachment: UNDP_around_the_World_-_The_Millennium_Development_Goals___of_ERITREA.jpg)
Received on Wed Apr 22 2015 - 18:13:32 EDT